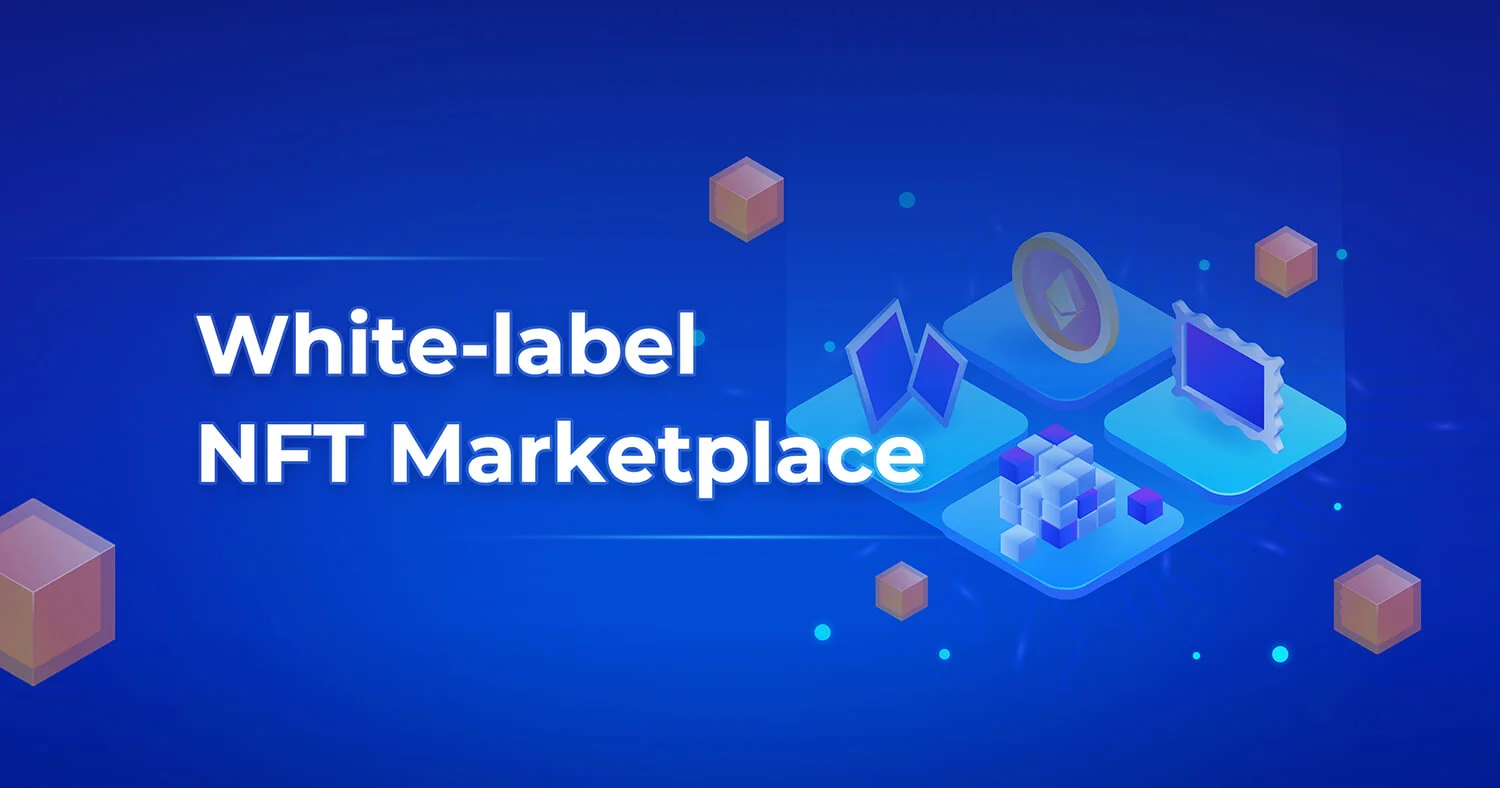 NFT, as an offshoot of blockchain technology, is gaining a wider appeal, especially with the participation of celebrities, artists, and big businesses. In 2021, NFT sales recorded a massive amount of $25 billion, with people buying everything from twit screenshots to cartoon monkeys.
Aside from popular marketplaces such as Opensea, LooksRare or Magic Eden, businesses now have the option to build their own marketplaces to sell NFTs. In this article, we aim to help you understand the basics of what is a white label NFT marketplace, whether your business needs one, and why white label may be the best solution to it.
What is a white label NFT Marketplaces
A white label NFT marketplace is one that is pre-built and fully customizable to your NFT business needs.
Because of its ready-made nature, a NFT white label marketplace should be pre-integrated with all the essential features to support buyers & creators to create freely, buy, trade, and sell NFTs; and you only need to apply your own NFT business branding so that the NFT marketplace can look like your own.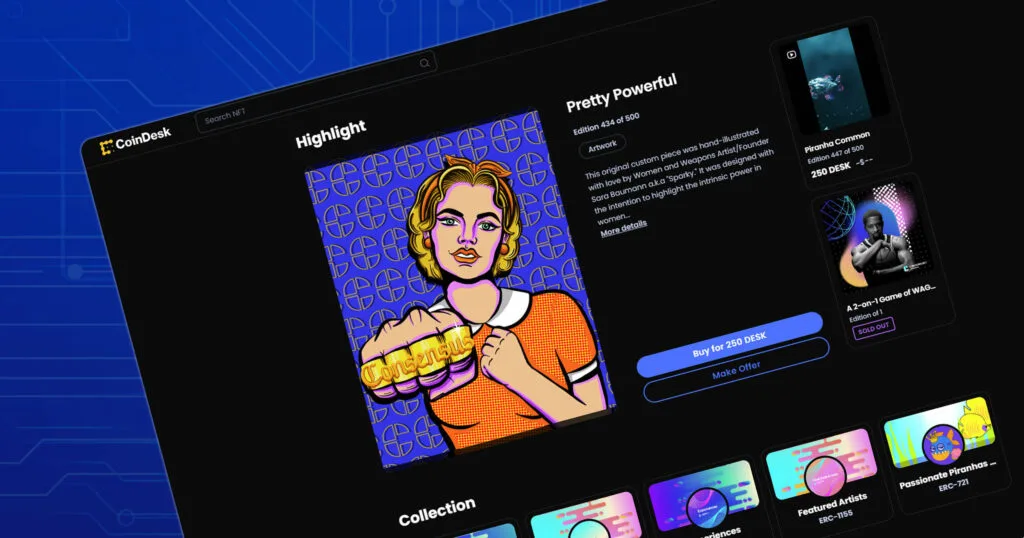 1. What is an NFT marketplace?
An NFT marketplace facilitates the trading of NFTs between sellers and buyers. NFT sellers can be artists, institutions, or any individuals wanting to sell the ownership of their assets, whether physical or digital. On the other end of the spectrum, we have NFT buyers who purchase them to support the artist, enrich their collections, trade for more value & so on.
2. How many types of NFT marketplaces are out there?
There are two basic types of NFT marketplaces: aggregated and self-owned. In aggregated marketplaces, anyone can create an account, upload their NFTs and start selling.
Meanwhile, for self-owned, only the admins can authorize the NFTs to be put on sale, or more if he wishes to share the permission with marketplace collaborators. 
3. What's the key difference between aggregated and white label NFT marketplaces?
An aggregated NFT marketplace lets you sell through it alongside others, while self-owned is built for, well, you only.
🔎 For instance, take a look between Rarible – an aggregated NFT marketplace, and Heftyverse – a self-owned site.  
To put it simply, selling in aggregated NFT marketplaces is like having a spot in the local supermarket. The traffic is high and you still get sales, but most of them aren't looking for your business in particular. 
Setting up your own white label marketplace is more like renting a shop to sell in. You have your own space, and anyone coming in actually knows about your brand. There is plenty of room to be creative, but also the extra work is needed to build up the customer base. But once the business takes off, you can expand that shop to the moon and back!
4. Which type is better for my business? 
The two types cater to NFT creators with different purposes. If you only need a place to sell without much effort, then aggregated NFT marketplaces it is. But if you want the freedom to create something authentic and long-lasting, then white label NFT marketplace is the best suit.
Does an white label NFT marketplace benefit my business?
With the growing applications of NFT, this question shall soon turn into "How will an NFT marketplace benefit my business?" Take a look at the top industries and use cases that have been revolutionized by NFTs.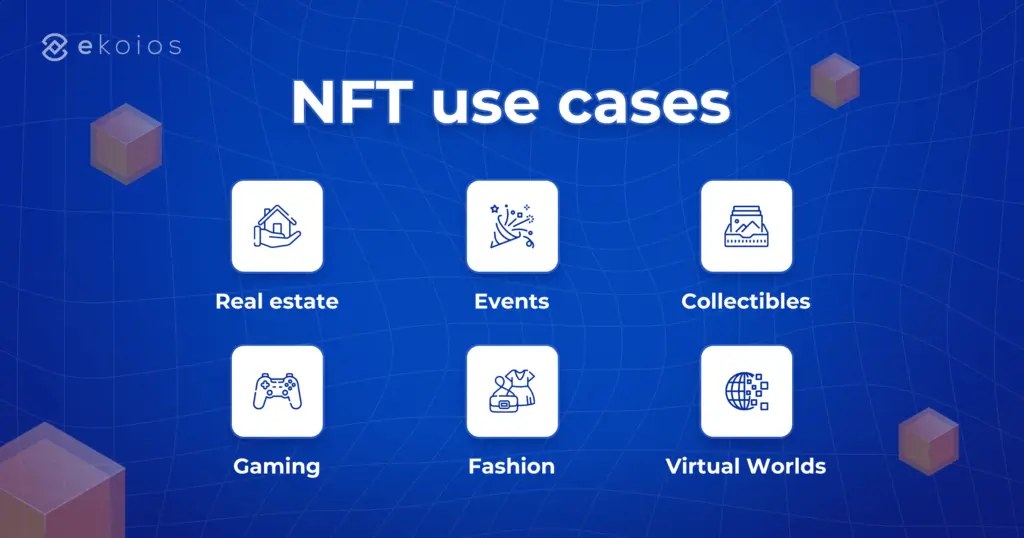 Real estate:

NFTs make the high stack of paperwork, the never-ending process, and the crazy add-on fees in property transactions all go away. Proof of ownership transfer now can be simplified to a single ledger entry.

Events:

Unlike normal tickets that can easily be bought in bulk, repriced or frauded, each NFT ticket can be validated and tracked back to ensure its authenticity. 

Collectibles:

Thanks to NFT technology, collectors can claim ownership and royalties on an artwork, while the artist rights are also protected. 

Gaming:

NFT has played a huge part in the uprising of play-to-earn (P2E) and the advance of pay-to-play (P2P) games, helping users earn actual profits with game items.

Fashion:

Numerous mid and high-end clothing brands are launching their NFT collections for digital use, from Adidas, Nike, Uniqlo to Balenciaga, Gucci, and Prada.

Virtual Worlds:

This may sound too futuristic, but decentralized land will have an important place in the future of digital ownership and metaverse, developed with blockchain infrastructure. 
Don't find your field? Then step up and be the industry pioneer. Any of your assets, no matter physical or digital, can be converted to NFTs and put on the blockchain.
Essential features of a white label NFT Marketplace
Now you have the answer: Yes, an NFT marketplace definitely benefits my business. Moving on to developing one, we have listed below the essential features to make the trading experience as seamless as possible.
Customizable interface

to display your brand characteristics.
Different selling methods

for different types of NFT to maximize revenue.
Wallet integration

for anyone to be able to purchase your NFTs.
Search & filter functions

for customers to quickly find what they want within a big collection.
Management dashboard

to keep track of the marketplace performance, from NFTs, and earnings, to users and analytics.
Marketing tools,

built-in or integrated, to best promote your marketplace.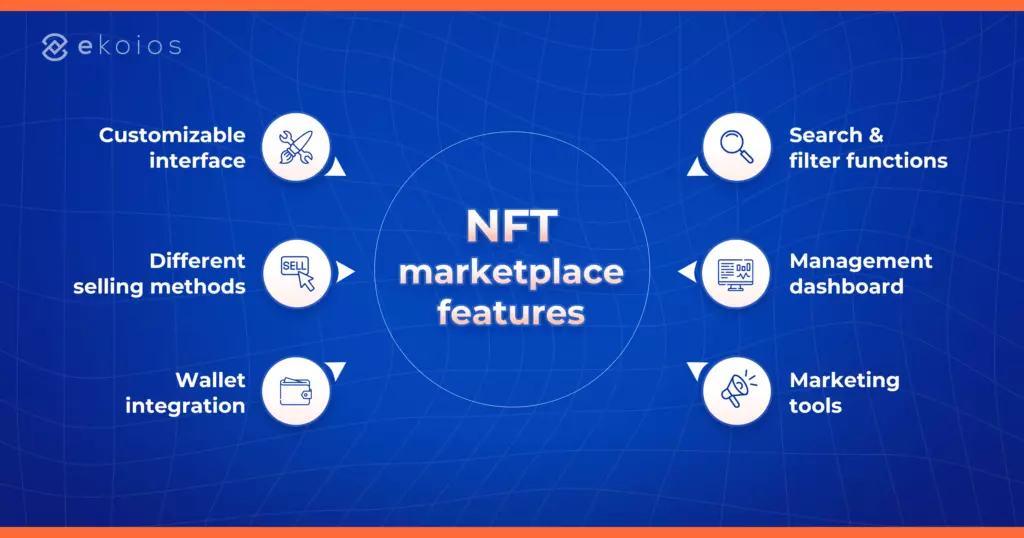 And the list goes on depending on the industry and the type of NFT your business will be selling. It doesn't sound sensible to do everything on your own, especially with little to no blockchain experience. So what's the best solution?
Ways to develop an NFT Marketplace
Before getting on the how you'll need to consider the two critical factors: time and budget. When do you launch your marketplace, and how much money is allocated to building it? Having a fixed answer will surely guide you in choosing the most suitable option, as we come to evaluate the 3 most common methods.
Method #1: Develop from scratch
If you have tons of coding experience, crypto or not, then this might be the go-to option. In case you don't, hiring a reputable freelancer or agency is also viable. It grants you the freedom to build the features or the outlook of the marketplace however you please.
However, the trade-offs here are time and cost. Trying something new always requires a lot of trials and tests, while errors are inevitable.
Method #2: Use a website builder
Website builders are applications, mostly no-code, that help you launch a website quickly with templates, drag & drop editor, and visual configurations. Popular builders such as Shopify and WooCommerce are eCommerce-focused, enabling you to list, sell and manage items. 
They let you skip the coding part of web development without sacrificing too much creative freedom. However, the nature of blockchain and NFTs make the equation a bit more difficult to solve. 
There are add-on plugins you can install like NFT Maker or Coinbase Commerce to facilitate the listing and payment of NFTs, but the setup requires coding and each transaction will cost you a small fee. And all the NFT-exclusive traits like royalty sharing, secondary sales, whitelisting, mystery boxes, etc. are certainly not available – so even more custom code is needed!
As the NFT industry expands, niche website builders with these features built in are also emerging and earning their places, with NFTify as the most notable name. 
Method #3: Get a white label NFT marketplace solution
White label NFT Marketplace is purchasing a ready-made product to customize and promote it as your own. Developed and perfected over time to meet a specific demand, a white-label NFT marketplace already has the fundamental features so that you can eliminate all the unnecessary fees, and have full control over NFT sales.
As the name suggests, a white label solution is white as a sheet, left blank for the buyer to adapt it into anything. You can freely customize every aspect of the marketplace's UX/UI to portray your brand characteristics. The even better part? The solution provider will do it for you, along with any extra features that you desire, at the price of a fraction of what developing from scratch should cost. 
For your reference, we have prepared a comparison table of the 3 methods – feel free to add your criteria and evaluate accordingly to find your best fit 😉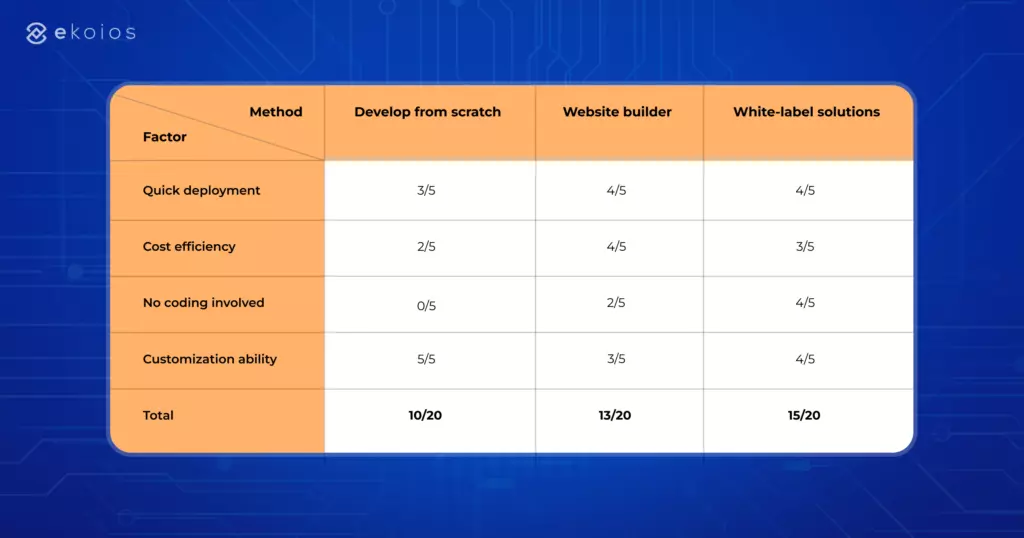 Build your NFT marketplace with Ekoios' White-label Solution
Now you know what an NFT marketplace is, the must-have features, and the best way to develop one. And Ekoios' White-label NFT Marketplace can be your leap to the NFT space, boosted with confidence.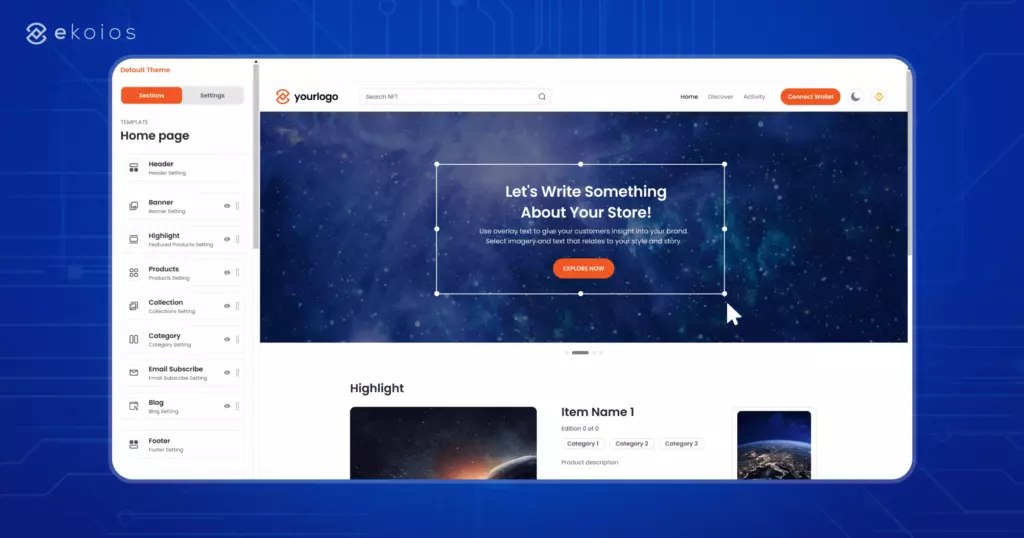 We get you ready within weeks:

Building from scratch takes months. Website builders require a learning curve and custom coding. But with our white-label solution, the base is already covered with the latest technology. Customization and enhancement shall take only a few weeks, top. 

We support every payment there is:

From fiat to cryptocurrency, public to private chain, our developers can enable multiple payment methods so that your NFT marketplaces can appeal to anyone who stumbles across. 

We tailor to your specific needs:

Your NFT marketplace is destined to be the first of its kind, which in turn requires first-of-the-market features. This is where our expertise in blockchain development comes into play. Just walk us through the idea, so we can assist you all the way from technology, architecture to design and execution. 

We infuse your brand identity:

Share your brand guidelines with us, and watch it come to life in every aspect of your brand new NFT marketplace. With Ekoios, be certain that your website will look as beautiful and unique as its presented mockups.  

We build a marketplace to scale:

For your site to generate traffic and make the best out of it, marketing tools are indispensable. From CMS, analytics, lead capture & conversion, email marketing to social sharing, SEO and blog – your full stack of marketing tools is 100% ready to deploy. 
One more thing… don't just hear it from us. A client of ours, AddValue, has launched the first NFT marketplace to run on Blockchain Japan's private chain Moneta. The platform is expected to transform Japan's Art Community with gasless transactions, easy NFT minting, and payment in both crypto & fiat!
And we're here to help
Proudly a Clutch leader in blockchain development services, Ekoios has been delivering advanced solutions to businesses of all sizes, and all over the world.
If you already have an awesome NFT idea and need a strategic partner, check out how we can help you develop a custom NFT marketplace, and simply fill out the form so our consultants can contact you!
Got a web3 business idea that you're confident with?
Browse our web3 development services and see what suits you
Get the best insights to your inbox
I would like to receive communications about Ekoios tailored to my interests and preferences, including latest news about products, services, events and promotions. For more information, please see our
Privacy Policy
.
Get the best insights to your inbox
I would like to receive communications about Ekoios tailored to my interests and preferences, including latest news about products, services, events and promotions. For more information, please see our
Privacy Policy
.
Thinking of outsourcing to Vietnam?
Find out which firm is your best suit with our guide of Vietnam's top 21 outsourcing companies, covering all domains and industries.