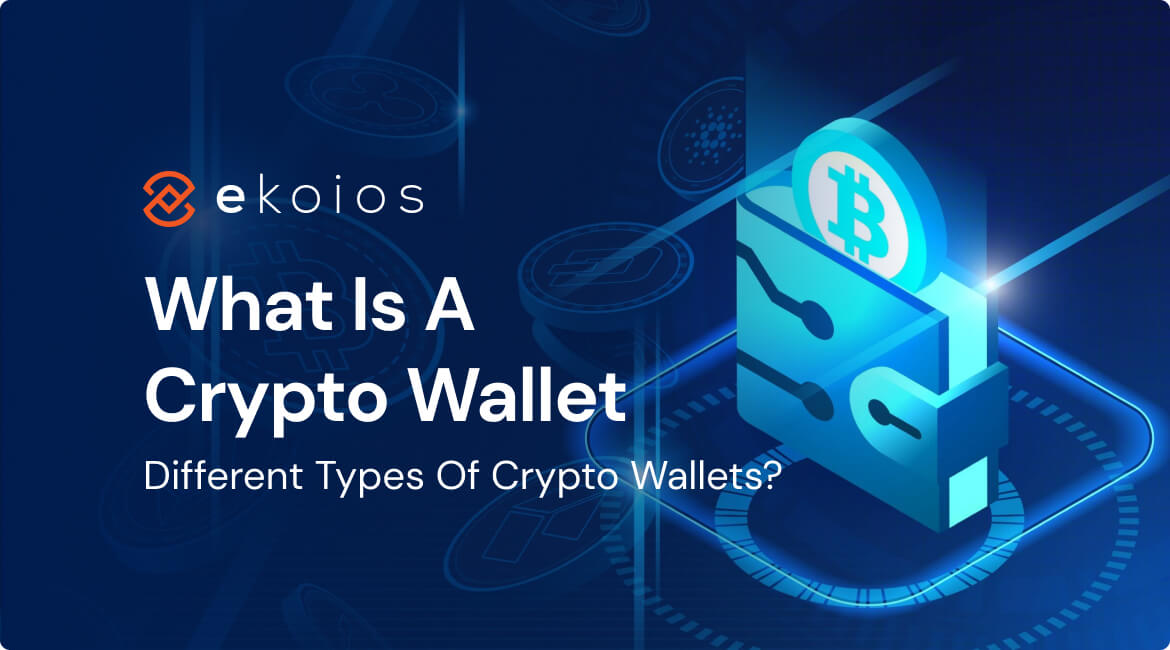 Cryptocurrency has become a global phenomenon and the central topic of conversation around the world. The demand for cryptocurrency storage and transaction is therefore rising, paving the way for the appearance of crypto wallet. So, what is a crypto wallet, and what are popular types of wallets? Let's find out in this article.
What is a crypto wallet?
A Cryptocurrency wallet is a kind of software platform that stores all the secret keys used to access your cryptocurrency so you can easily send and receive your cryptos such as Bitcoin or Ethereum. Cryptocurrency is the only way for you to prove the ownership of digital assets and to do your transactions.
The mechanism behind crypto wallet?
While a usual wallet will keep your actual cash, the crypto wallets indeed don't store your crypto. It gives you the private key to access your holding that stays in the blockchain. If you lose the key, you lose access to your money. So it's crucial to keep your wallet safe and secure. The crypto wallet can come in many different forms from hardware wallets to mobile apps, offering a wide range of options for users. Let's find out about different types of crypto wallets.
5 types of crypto wallets
There are 5 types of wallets that tailor to the different needs of the user to store the crypto. Each wallet provides different functions and securities levels so you can keep your assets safe and transparent.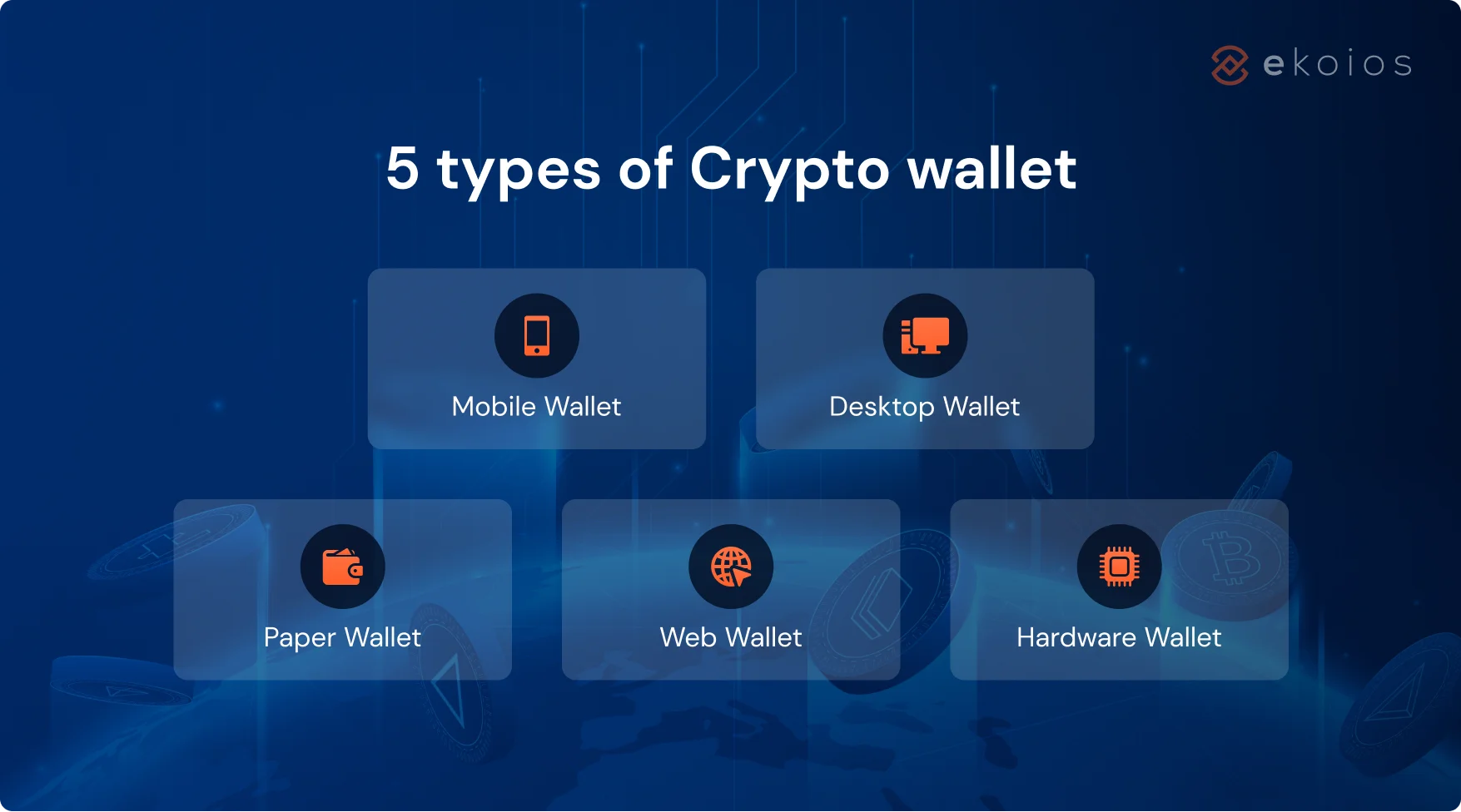 These 5 types are mobile, desktop, paper, hardware, online and mobile wallets. Let's dive deep into these wallets:
1. Mobile wallets
You can use mobile wallets by downloading and installing them on your mobile devices. With this wallet, you can access your crypto via a mobile device and use it daily. As this type of wallet is based on the internet so users must be cautious of all internet hack threats.
There are standards that you can take into account when choosing a suitable wallet. Firstly, you can look for the UX of the wallet interaction, the simple and effective UX design is important for any mobile application. Next, you can think of backup & security. The wallet that provides effective backup options for the user is a desirable one. Thirdly, you cannot skip compatibility. It's important that your wallet application can work in multiple operating systems, including IOS and Android.
📌 Read more: Checklist To Keep The Crypto Wallet Safe And Secure
2. Desktop wallets
Desktop wallets are often available for multiple desktop operating systems that include Mac, Windows, and Linux. To use this type of wallet, your desktop or laptop has to connect to the internet, leading to some possible online threats. Thus, you should carefully set up some basic security measures such as firewall, antivirus, and anti-malware software. There are also a plethora of desktop wallets suited for Bitcoins and many other cryptos, so you can freely choose the suitable one rather than keeping all your coins and tokens in exchanges.
3. Paper wallet
In 2008, when Bitcoin was issued, paper wallets appeared as the only option to store this crypto asset. After that, with technology development and blockchain-wide adoption, many new kinds of wallets have been invented and help users to store crypto conveniently.
With a paper wallet, you just print the public addresses and private keys on the physical medium and transfer bitcoins or altcoins on it. Obviously, this type of wallet makes using the crypto harder as digital crypto is often used on the internet.
4. Hardware wallet
These wallet types refer to the hardware devices used to store your public addresses and private keys. The devices here can be the USB with side buttons to maneuver through the wallet interface and often couple with the native desktop apps utilized for different cryptocurrencies. This type of wallet can be super secured as the seed words are displayed on the wallet screen and the private key is stored firmly on the hardware wallet.
5. Web wallet
A web wallet, also referred to as a hot wallet, must be connected to the internet and the user can access it through a wide range of browsers from Google Chrome, and IT, to Firefox. A typical use of a web wallet is when you store your crypto on the crypto exchange. In this way, you don't get access to your private key so you might lose your crypto if the exchange is shut down or hacked.
It is recommended that you should keep the crypto that you actively trade on the exchange, and keep the rest in the mobile wallet or hardware wallet for security. Web wallets can be hosted wallets, meaning you don't have access to a private key, and can be non-hosted, meaning you control your private key. The preferable way is non-hosted as you can always keep a private key in hand.
📌 Read more: Crypto wallet web app ideas
Wrapping up
There are many types of crypto wallets with different functions and advantages and disadvantages. With different sets of criteria and purposes, users can choose the most suitable one to store the crypto securely and to confidentially join the exciting crypto world.
With the vast development of the blockchain field, many companies in today's age build many wallet functions to tailor to the demand of customers. Among them, Ekoios is the leading blockchain company in Vietnam with long experience in this technological field and a team of outstanding experts. Our Ekoios team has been working with many big enterprises to build crypto wallets from the sketch design to the completed products with an array of effective functions. Many wallet projects have come into the world and received huge success, can be listed as VC wallets, or BitCoin Value.
The crypto wallet is just one part of our whole blockchain services and products, containing a Cryptocurrency Exchange, Mining, Wallet Development, Cryptocurrency, Bridge, Blockchain Consultants, etc. Plenty of those is demonstrating great applicability in the crypto field and helping enterprises and customers to do business in the crypto market.
Got a web3 business idea that you're confident with?
Browse our web3 development services and see what suits you
Get the best insights to your inbox
I would like to receive communications about Ekoios tailored to my interests and preferences, including latest news about products, services, events and promotions. For more information, please see our
Privacy Policy
.
Get the best insights to your inbox
I would like to receive communications about Ekoios tailored to my interests and preferences, including latest news about products, services, events and promotions. For more information, please see our
Privacy Policy
.
Thinking of outsourcing to Vietnam?
Find out which firm is your best suit with our guide of Vietnam's top 21 outsourcing companies, covering all domains and industries.