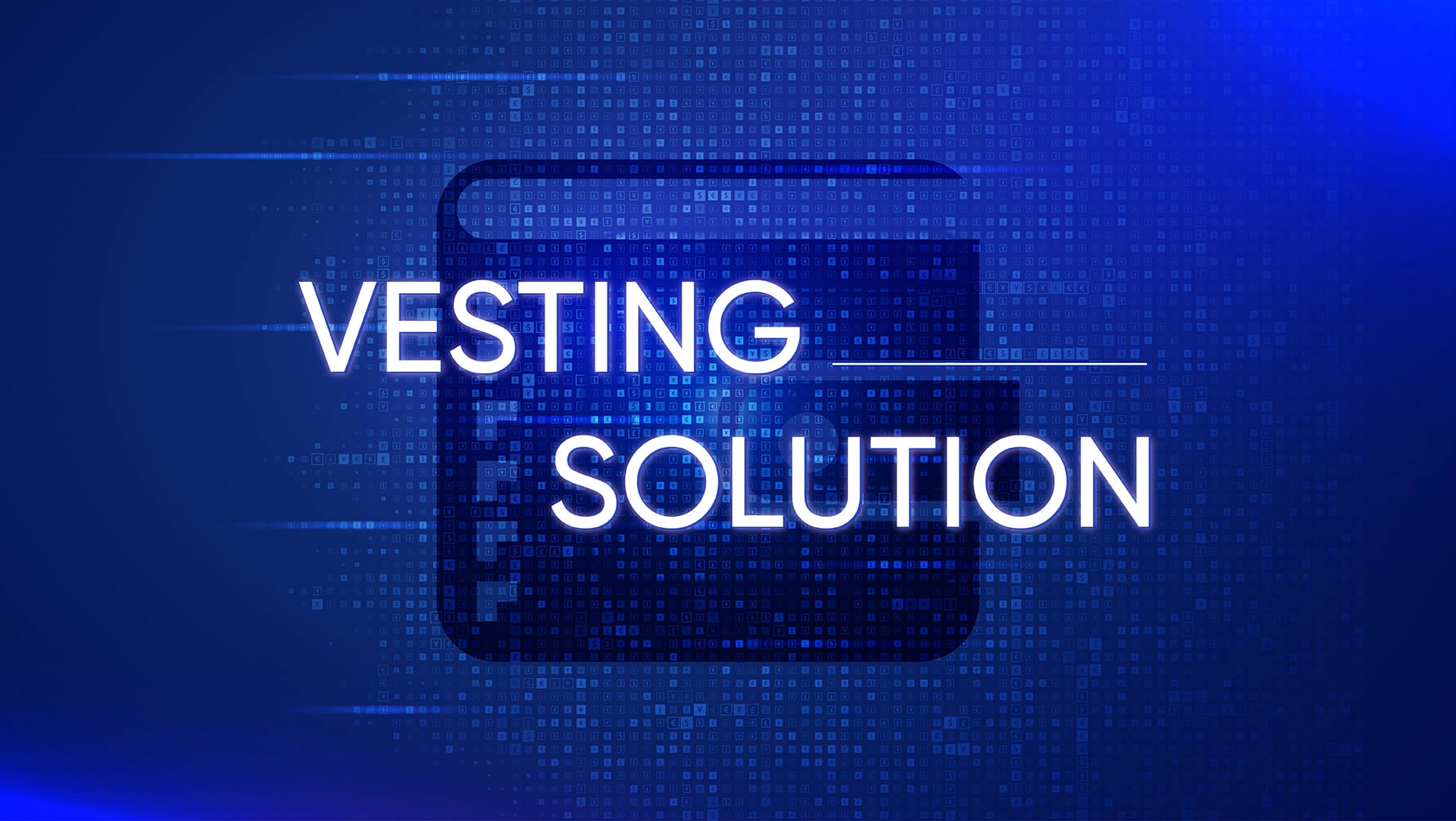 Various projects in the DeFi ecosystem have been welcoming the idea of vesting solutions as a better way to secure their locked-up tokens. Indeed, this is unavoidable because the manual vesting method has a lot of deficiencies.
There are various vesting solutions available for projects to adopt. However, some project leaders have questioned how they can evaluate the efficiency of a vesting solution.
In other words, they want to have a first-hand understanding of the key attributes in assessing whether or not a vesting solution is up to the task. While vesting solution evaluation may appear easy on the surface, it takes a little bit of hardcore technical know-how to carry it out.
Against this backdrop, this article will be kicking off with the important qualities you should watch out for in a vesting solution. Subsequently, we will go ahead to discuss the various token vesting schedules you can adopt for your locked-up tokens.
Token vesting schedules — how do they work?
Token vesting is not only about locking up the tokens, it also revolves around how to eventually release them. Now, the question is, what would be the parameters for releasing these tokens? 
That is where vesting schedules come in. For those who don't know, vesting schedules in crypto refer to the yardstick with which some locked-up tokens will be released in the future – maybe time, achievement, or both. 
Here are the three popular vesting schedules in crypto and how they work:
 Time-focused Vesting

 Achievement-focused Vesting

 Hybrid Vesting Schedule
Attributes of an ideal token vesting solution
When utilizing a token vesting portal for your project, please examine these attributes thoroughly:
1. Security
Security is one of the most important attributes of an excellent vesting solution. The reason is that hackers always have their eyes on vesting portals. Whenever vesting portals are breached, this often forces some team members to eventually leave. 
Just some days ago, the story of how the vesting contract of Superfluid was manipulated took over the internet. Superfluid is the Polygon blockchain protocol that created the vesting contract for the popular Qi DAO.
While the hackers couldn't extract the vested tokens of the users, they were able to siphon cryptos that were worth around $20 million. According to insider sources, the $20 million is part of the locked-up tokens of the early supporters of the project. 
After the incident, the governance token of Qi DAO—QI—experienced an almost 70% drop in price. Having known this, top-tier security is the first checklist to tick when getting an ideal vesting solution. 
2. Token Management Capacity
What a vesting solution does is similar, in a way, to how payroll software works in Web2: having the data of everyone and their respective accounts. In Web3, vesting solutions process the right amount of tokens periodically into the respective wallet addresses. 
When you are choosing your vesting solution for your project, you need to ask two questions, "How many amounts of the token can it process? How many wallet addresses does it have the bandwidth for?" 
These questions are important so you'd know if the particular vesting solution can comfortably cater to your user base. If the vesting solution can't manage the great number of token amounts and wallets, then it isn't the one for you. 
3. Ease of Use
No matter the degree of technical expertise it takes to build a vesting portal, it must be easy to navigate so the investors can claim their tokens when it is time. 
This starts from the user interface. An ideal vesting solution should have an appealing outlook that will make the users have an intuitive operation. It must be simple and clear since money is involved.
4. Efficient Disbursement of Locked Tokens
Once a vesting solution can manage tokens, then it should be able to disburse them efficiently when it is time. In other words, the vesting solution must be mistake-free, precise and fast in its operations. 
There have been numerous stories of how cryptos were sent to wrong, or even invalid, wallet addresses. Last year, Compound protocol accidentally disbursed $90 million to its users. 
Back to vesting, what happened to Compound will be an expensive mistake for the vested tokens of any project. 
5. Analytics and Technical Support
At every point tokens are disbursed from the vesting portal, the project owners would need to have a thorough breakdown as a form of accountability. Aside from that, it may become more necessary when there is a need to trace an inconsistency.
Thus, a good vesting portal should show the number of tokens that have been claimed and the respective wallet addresses. Beyond that, the project owners would be able to track the progress of each stage of the vesting schedule. 
Moving on, the smart contract engineers should always be handy to offer support for any issue the vesting portal might be facing along the line.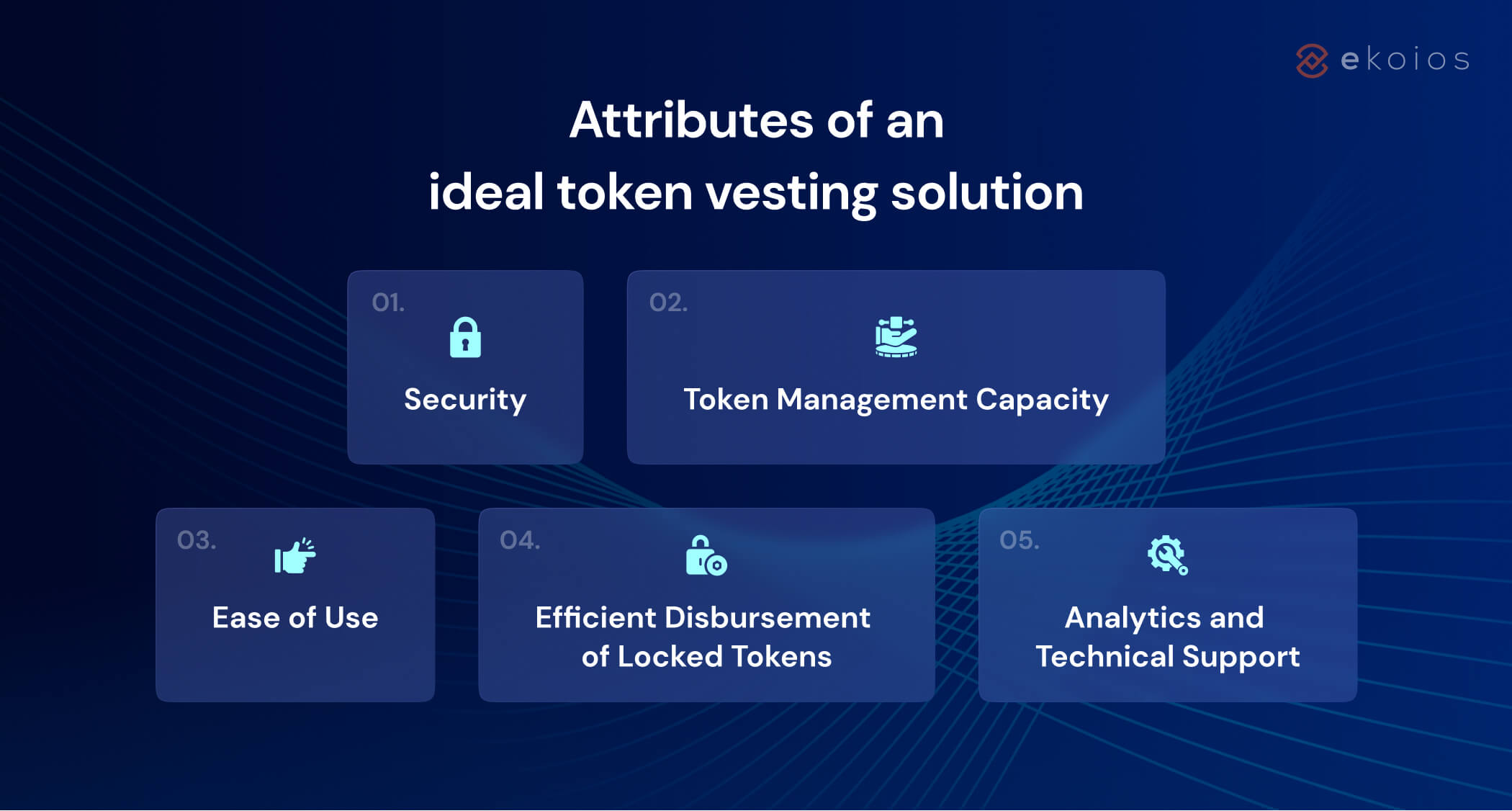 Use Ekoios token vesting schedules for your project
Ekoios Technology is one of the leading blockchain development companies in the globe, and a lot of blockchain projects have been applauding the excellency of our white-label vesting solution.
Ekoios vesting solution is currently one of the best vesting solutions in the world. Here are the things that differentiate us from competitors:
1. Smooth distribution of vested tokens 
Our world-class vesting solution at Ekoios saves our clients the trouble of manual vesting. With our white-label solution, they can sit back while everything is automated. 
They would be sure that every investor on the database will receive their due percentage of the locked-up tokens. We leverage the power of smart contracts to make the payment of the vested tokens automatic and flawless. 
Our team of Devs at Ekoios is skilled in every necessary stack to build an error-proof vesting smart contract. Similarly, speed is one of the reasons why customers love our vesting solution. 
2. Unlimited token and wallet amount 
The vesting solution we build for our clients can hold millions of tokens. Similarly, we can integrate the database of a lot of wallet addresses. This is easier because we will build the vesting solution in a way to supports a large number of people. 
As a case study, we built a white-label vesting solution for Fabwelt—one of our clients—and it successfully hosted 253 million of their tokens. Not only that, we also added the addresses of their investors comfortably. 
🔸 A Practical Use Case: Age of Gods NFT Game
3. Simple UI/UX 
The Ekoios white-label vesting solution has been applauded severally because it gave our clients impressive user experiences. To use our white-label vesting solution, all your vested users have to do is to connect their Metamask wallet and claim their due tokens.  It's that simple. 
When our engineers built the vesting portal for Graviton Zero, our client that is building a multi-chain P2E project, they created it with a simple UI/UX. 
4. Maximum protection 
We make sure we give unbreachable protection to the vesting portals of our clients. We are always meticulous with data storage, verification of queries, and deployment of our smart contracts. 
We leverage the security products of Open Zeppelin for audited and cyber-proof codes. Similarly, we test our vesting solution with Truffle to double-check if there are any loopholes at all. 
Apart from these security best practices, we have some other private high-level practices we implement before deploying the vesting portals of our clients. 
5. Vesting history and technical support 
We make it easier for our clients to track how many locked-up tokens were released per time. This would be available not only on the blockchain but on their "dashboards."
As a company that has been long in the game, we don't leave our clients hanging. We keep in touch with them especially at the initial stage when the portal is deployed. 
One of the co-founders of Age of Gods, our recent clients applauded us on this note. His community requested a few changes when we built their white-label vesting solution, and our team worked on it again to implement their changes. 
Be rest assured that when we build a white-label vesting solution for you, we do it to your taste.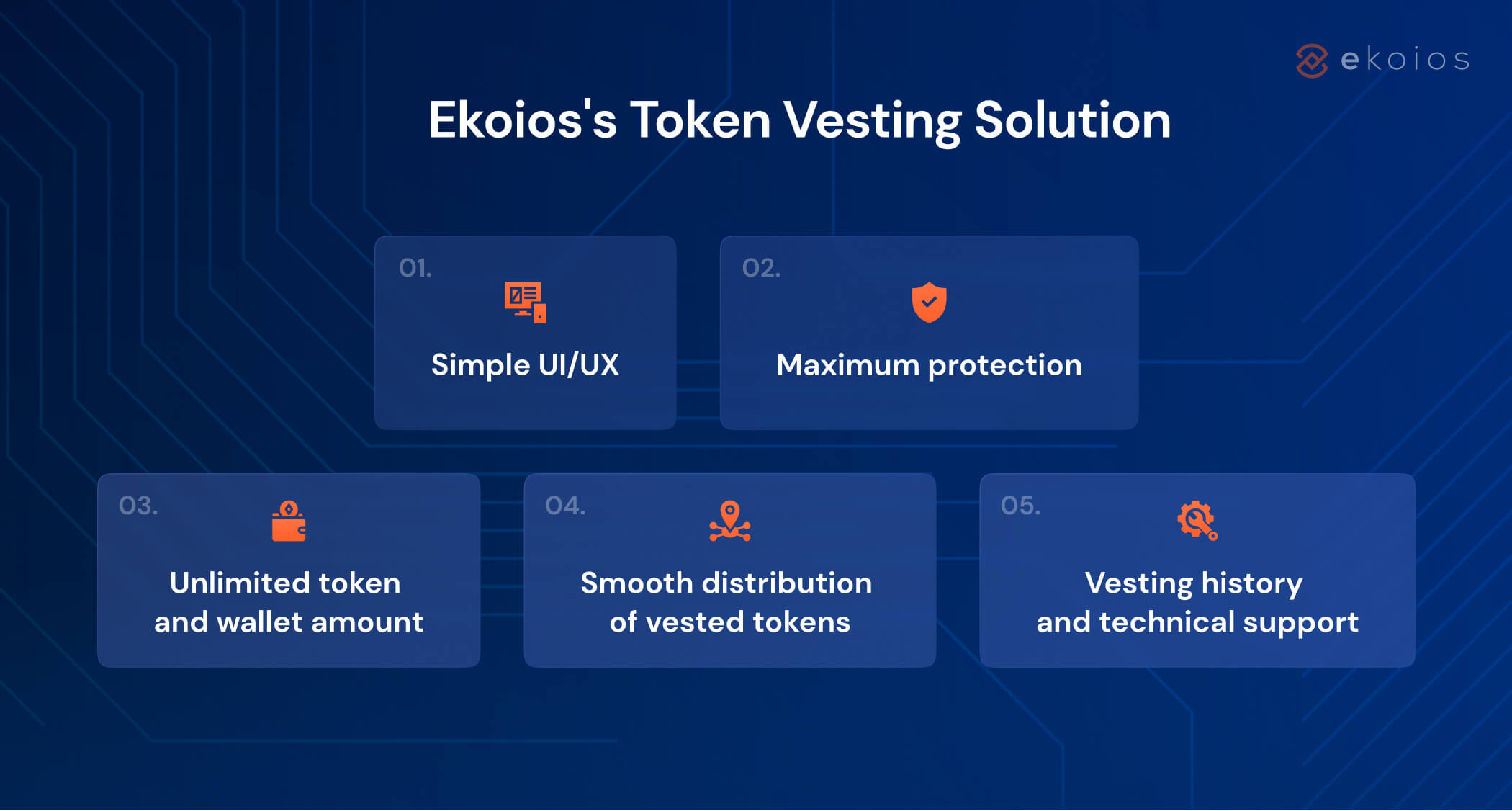 What's next? 
Once you contact us to build your vesting solution portal, our seasoned Developers will customize our white-label solution and build it for you in a matter of weeks. Not just that, we will ensure we incorporate your brand identity into the interface of your vesting portal.
All our clients have narrated how our white-label vesting solution has incredibly helped them to manage, secure, distribute, and analyze their locked-up tokens.
We have built vesting portals for the big names in the industry, including NFTify – a fast-rising global NFT marketplace builder platform. 
This year, more than ever, we are keen on helping projects build scalable communities through vested tokens. Reach out to us today to get a first-class white-label vesting solution for your DAO and DeFi projects.
See our white-label vesting tool in action
Want to see how token vesting works with your project?
Browse our white-label token vesting tool solutions and see what suits you. Contact us now for a free demo.
Get the best insights to your inbox
I would like to receive communications about Ekoios tailored to my interests and preferences, including latest news about products, services, events and promotions. For more information, please see our
Privacy Policy
.
Get the best insights to your inbox
I would like to receive communications about Ekoios tailored to my interests and preferences, including latest news about products, services, events and promotions. For more information, please see our
Privacy Policy
.
Thinking of outsourcing to Vietnam?
Find out which firm is your best suit with our guide of Vietnam's top 21 outsourcing companies, covering all domains and industries.