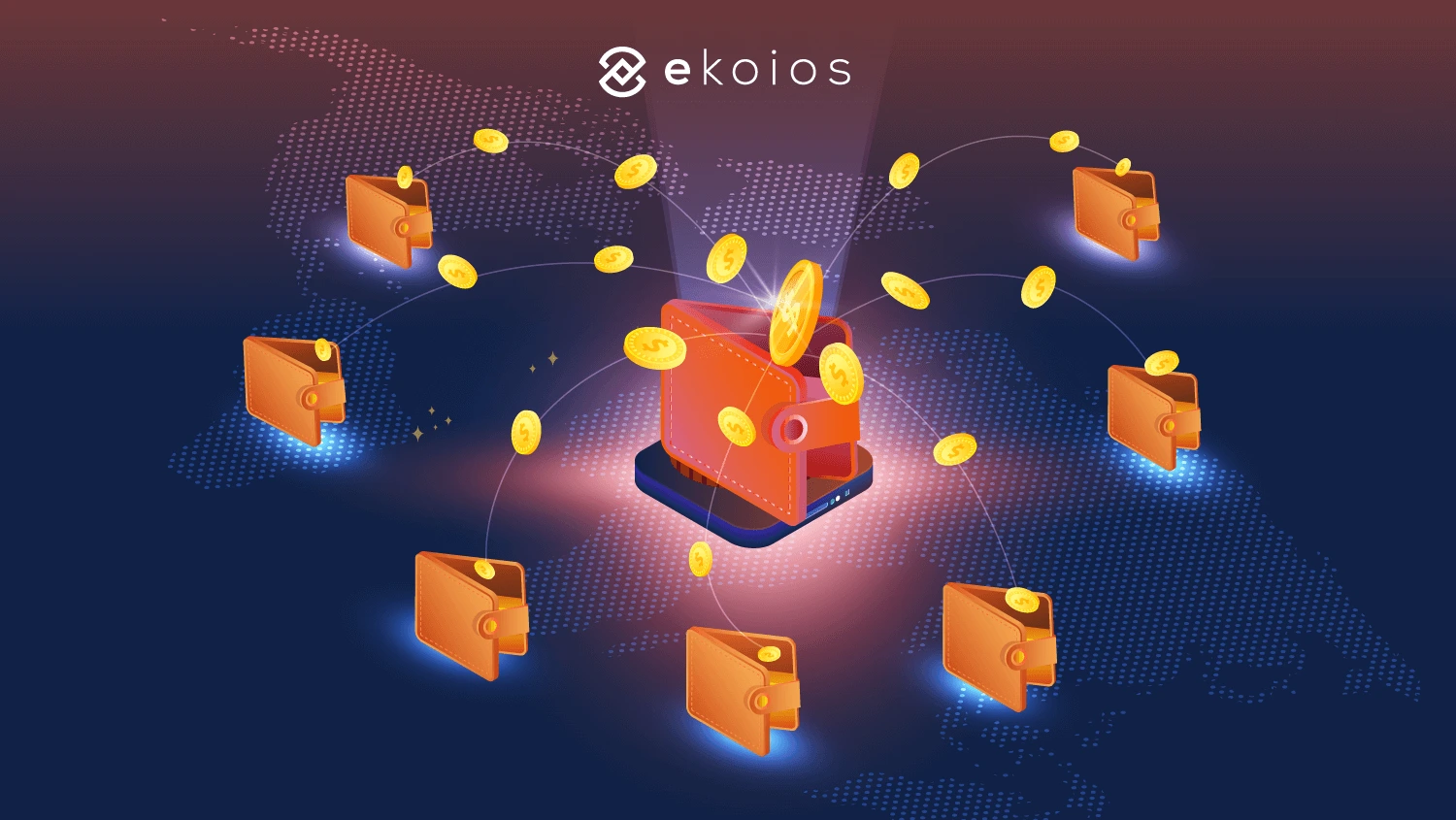 In the past two years, there are more and more blockchain projects launched with their own tokens. The project owner will release their tokens to the general public through a crowdfunding event. The vesting tool was created to simplify this process as well as maximize its efficiency.
With the strength in Blockchain services, Ekoios has developed and delivered the token vesting tool – an innovative solution that will allow crypto projects to lock their tokens and set a release schedule. Here's an in-depth look into our new service – token vesting tool development to figure out what it is and how it benefits project owners and investors.
What is token vesting?
Vesting or linear vesting is the process of locking and releasing tokens after a period of time. Vested tokens usually belong to project team members, partners, advisors, and others who contributed to the project development, and they can also belong to investors who bought tokens before they went on general sale. As the project progresses, tokens are released gradually over the vesting period, perhaps once a month, once a week, or even daily.
Vesting in crypto, similar to traditional finance, is frequently used to ensure long-term commitment to a project from team members and others involved in the project. It guarantees that the project owners have a financial incentive to continue developing the project which gives potential investors more confidence in the business.
Why is token vesting so important?
After an Initial Coin Offering (ICO), an Initial DEX Offering (IDO), or a crowdfunding period, there are often massive sell-offs as the project owners or the early investors sell their tokens as soon as they hit the market. This will result in a huge surplus supply of the token, which can lead to massive drops in the token price.
Crypto is unlike any other market because of its high volatility. These massive sell-offs are also a result of a huge price increase created by the hype surrounding the new project. Retail investors create a spike in the price that early investors and the project members can then sell into, causing the price to drop and leaving the retail investors with a significant loss.
Without vesting, a single or a small number of individuals, or groups can hold a significant amount of the project's tokens from the token generation event date. This allows them the ability to quickly cause supply fluctuations that can be harmful to the token's ecosystem and price in the long run. This would signify a huge threat to the token's stability. Vesting, in effect, allows the given token to be distributed appropriately before any individual has this power.
Eventually, vesting is at the heart of token economics. With a vesting schedule, both public and private sale participants are protected. Above all, it ensures the long-term project's stability and the ecosystem's viability. It protects not only the future of a company but also the interests of those who took part in Initial Coin Offerings which include IDOs.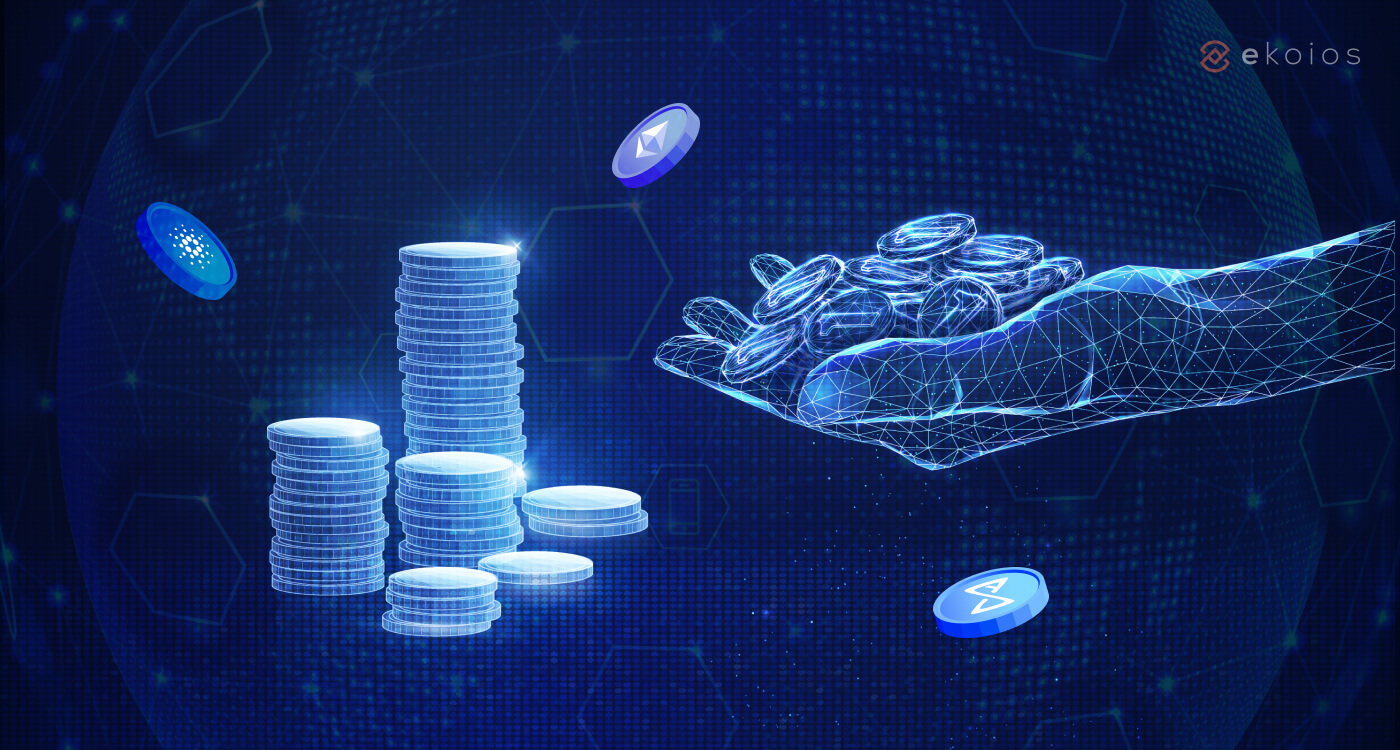 Why do you need a token vesting tool?
The vesting tool was created to assist project owners in automating the vesting process. As mentioned earlier, a vesting tool will allow crypto projects to lock their tokens and set a release schedule automatically. Thus, it cuts down the owners' workload and saves more time, and money in this process.
In detail, if the vesting process is implemented manually, the owners would have to pay the tokens to investors one by one, which causes them to bear the gas fee each time. Furthermore, in big projects, there are hundreds, even thousands of investors participating in the early rounds. Manual tokens payout is nearly impossible, it might lead to mistakes, causing losses for project owners and inconvenience for investors. Using a vesting portal with smart contract technology integrated, the investors can access, and keep track of the token allocation process and claim by themselves.
🔸 Case study: Building A Vesting Tool For Age of Gods
What are the benefits of using a white-label Vesting Tool?
Here at Ekoios, we provide white-label vesting tool development services for blockchain startups and corporations who want their own tool for their project. Having a vesting tool, the project owners are facilitated to be hands-free from allocating or distributing tokens to the investors in the early rounds (seed round, private round, strategic rounds). Below are the unrivaled advantages when using Ekoios' white-label vesting tool:
Blazing-fast delivery time: Having a powerful and feature-rich core vesting tool, our customers are guaranteed to take delivery of the final vesting portal within 1 week with their own brand and vesting schedule on it.
Simple and quick brand adoption and customization: Customers can rest assured that the vesting tool speaks your brand loud and clear.
Unlimited token and wallet amount for the vesting tool to process.
Equality – claiming tokens at the same time thanks to the smart contract integration.
Error-free performance: stay away from the wrong wallet address or transfer amount. The tool is cross-checked before deploying by related parties to ensure a flawless outcome.
Payout workload reduction: the vesting schedule is automated with the integration of smart contracts, helping the project owners to save time and effort.
Vesting fee saving: the owners of big projects are able to save a huge amount of vesting fee since they don't have to bear it thanks to the vesting tool.
Ease of use: the project owners are able to adopt it with ease, and the investors are allowed to take the initiative to control everything in the token claiming process. It is easy to use with just 3 steps: Connect the wallet, Select the vesting round and claim tokens, and Confirm the transaction.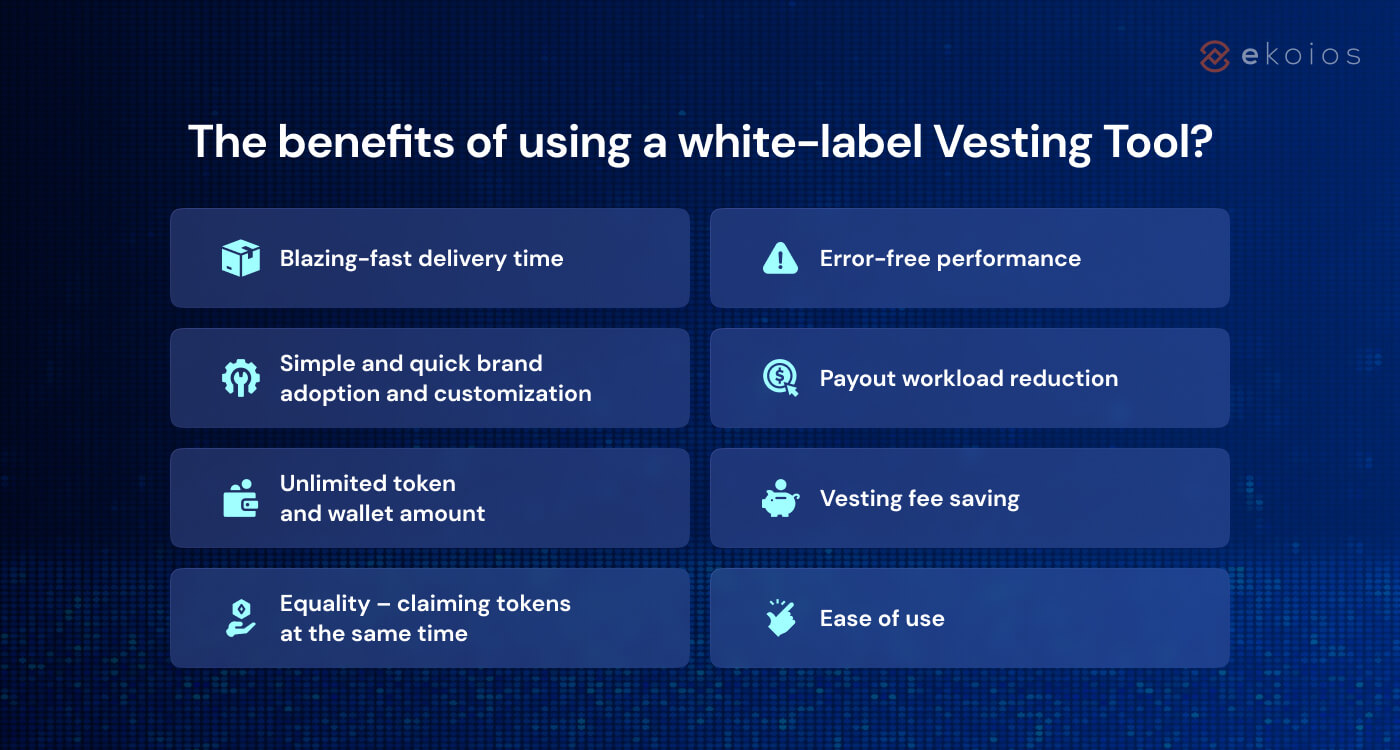 Owing to our in-depth knowledge of blockchain and reputation in developing white-label solutions, Ekoios has gained great confidence among startups and corporations in the industry. Specifically, in 2021, Ekoios developed and delivered successfully over 7 vesting portals to global clients, including NFTify, Shoefy, Fabwelt, Beyond Finance, Graviton Zero, etc. Almost all portals are now on air with full functions assisting involved parties in the token vesting process.
For one of our clients – Fabwelt, for example, the time that takes to apply their branding into the white-label vesting tool and deliver it successfully for them is just 1 week. The total amount of vested tokens was close to 84.5M, and our vesting tool only takes 3-5 seconds to process each transaction.
In short, our vesting tool saves time, and gas fees reduce risks in managing wallet addresses for project owners, and bring a seamless experience for all participants.
See our white-label vesting tool in action
Conclusion
Vesting is likely to be a fundamental factor of most crypto launches in the foreseeable future and having a token over a vesting schedule is an efficient way to protect investors, project owners, and collaborators. Using Ekoios' reliable white-label vesting tool is incredibly convenient for project owners and helps them to gain trust from related parties.
For any questions about the white-label vesting tool, please feel free to reach out to us and start building your own vesting tool. If you need our solutions and consultants to grow your blockchain business, we are ready to help.
Contact us here for a vesting demo
And don't forget to follow our social networks to stay up-to-date on the latest blockchain news, our products and services, and crypto events.
Want to see how token vesting works with your project?
Browse our white-label token vesting tool solutions and see what suits you. Contact us now for a free demo.
Get the best insights to your inbox
I would like to receive communications about Ekoios tailored to my interests and preferences, including latest news about products, services, events and promotions. For more information, please see our
Privacy Policy
.
Get the best insights to your inbox
I would like to receive communications about Ekoios tailored to my interests and preferences, including latest news about products, services, events and promotions. For more information, please see our
Privacy Policy
.
Thinking of outsourcing to Vietnam?
Find out which firm is your best suit with our guide of Vietnam's top 21 outsourcing companies, covering all domains and industries.