About The Clients
Dizzy is a marketing firm specializing in assisting Japan's businesses to foster their crypto projects. Their client, TTX (TALENT TOKEN EXCHANGE) has the vision to tokenize fan service provided by talents and celebrities for both fans and investors.
The Challenges
Dizzy saw the massive potential to equip TTX fan-service-as-token exchange with a staking system for their native token, TTX.
They wanted the staking platform to be stable yet scalable with built-in features that power all users to stake at ease, with airdrop, stake-rewards token swap, launch pool.
A 4-week detailed work plan for the project with a collaborative commitment from both parties was then formed.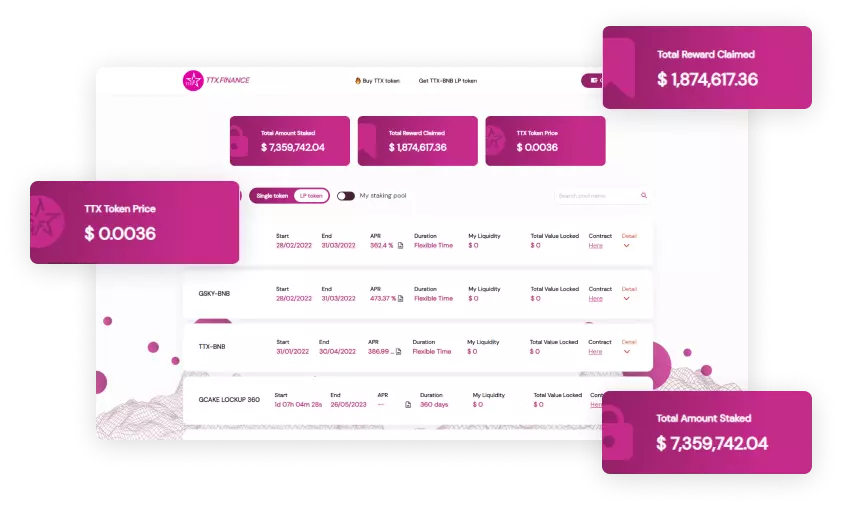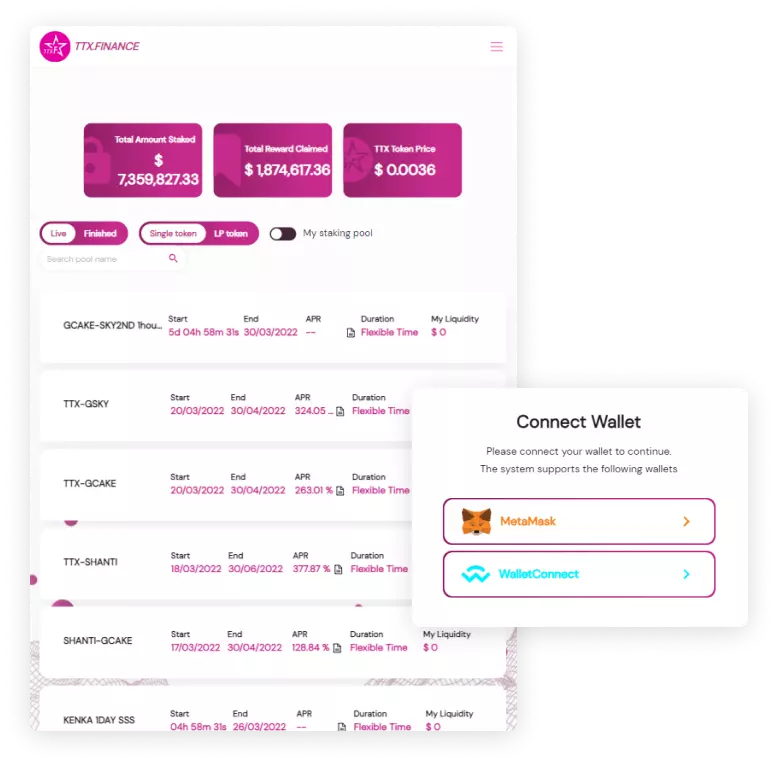 The Solutions
As the delivery time is the high priority criterion, we proposed our white label staking platform as a solution.
After that, we visualized the solution with mockup, graphic design and written SRS to ease the client's job in understanding and approving the project.
The platform required minimal configurations to stake that benefits user from beginner to expert. The overall staking process can be simplified to a 3-steps flow:
Connect wallet
Stake token
Claim/Unstake
During these interactions, users had full access to view pool listing, pool details, and their staking history.
Meanwhile, admins can manage both pools and users with robust backend configurations. Admins can view, block, and unblock users from staking with user management. They also had full capability to create, view, update, public/unpublic, and delete pools on the system.
After that, we delivered UAT with a testing environment and staging for our customers to confirm the final product.
Ekoios team also helped Dizzy with the operation, maintenance, and community support to answer users' staking inquiries for TTX FINANCE.
The Results
2 months after deployment, TTX FINANCE has reached $7,371,593.65 in total amount staked, with the reward claim rate of 25%.
Impressed by our support beyond the project's scope, Dizzy's CEO Mr. Masahiro has already spread the words for their partners:
"Great satisfaction from working with this team. They set and follow the plan very professionally."
🔎 Looking for something similar?
Technology Stack
ReactJS

ReactJS

NestJS

React Native

MongoDB

Solidity

Redis

Kafka