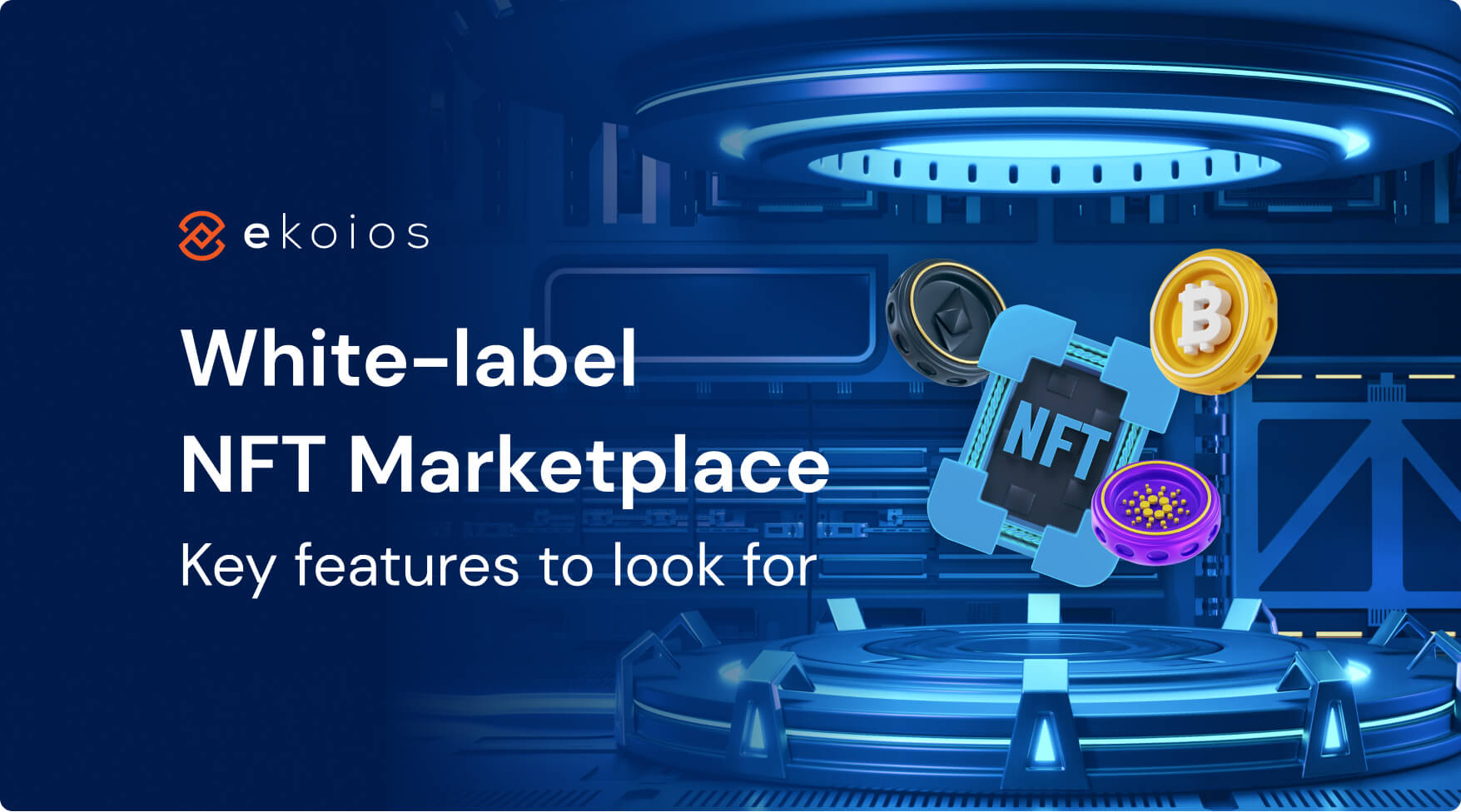 NFT already proves itself a thriving industry with various applications for any business. Their owned digital assets can easily be minted, traded or sold on dedicated marketplaces. And if your business wants to be in for the long run, having your own NFT marketplace is a must for complete control over operations and management.
However, developing one from scratch can be both exorbitant and time-consuming. So what is the inexpensive and time-efficient alternative? A white-label solution. And in this 7-minute read, we will share with you insights on what makes a good white label NFT marketplace as well as a good solution provider.
What Do You Need In A White-label NFT Marketplace?
Creators and traders carry out varied e-commerce activities in an NFT marketplace. And due to the NFT business nature, some features are a must-have no matter what industry you are selling to.
As a business looking to get a white-label NFT marketplace, you should look out for these features:
1. Easy Upload Process
A marketplace is only as valuable as the NFTs it offers. Creators and traders need a way to list not just a few but hundreds, sometimes thousands of NFTs on the marketplace.
NFTs exist in various file formats. It can be an image, audio, video, 3D model, or just about anything digitally stored. Therefore, the marketplace's upload system must be able to accept, process and preview that many formats.
There are many attributes that make up an NFT as well. For example, who would buy an art piece without the author's name? Or a game character without stats, levels and equipment? In addition to the file formats, the upload system needs to display these attributes, and in an eye-catching way to marketplace visitors. The most common solution for this is bulk upload using a CSV or Excel file, so keep your eyes out for that!
2. Various Selling Methods
With NFTs, there are two common selling methods: fixed price and auction. Fixed-price items can be bought instantly, while with auctions, the NFT goes to the person who places the highest price in a set time frame.
That doesn't mean you don't need the extra mile. An NFT marketplace is definitely more robust with exclusive features such as whitelisting and mystery boxes. Hence the white label of your choice should be able to aid these selling methods.
🔸 NFT related: 4 Step by step guide to mint NFTs — NFT Minting Guide
3. Chain and Wallet Support
Depending on the blockchain you want to develop on, your chosen white-label NFT marketplace must be able to integrate it well.
The chosen chain will also determine the type of wallet that the marketplace can support. Every transaction comes at a fee, so you better make sure that the system can handle a large volume from multiple sources.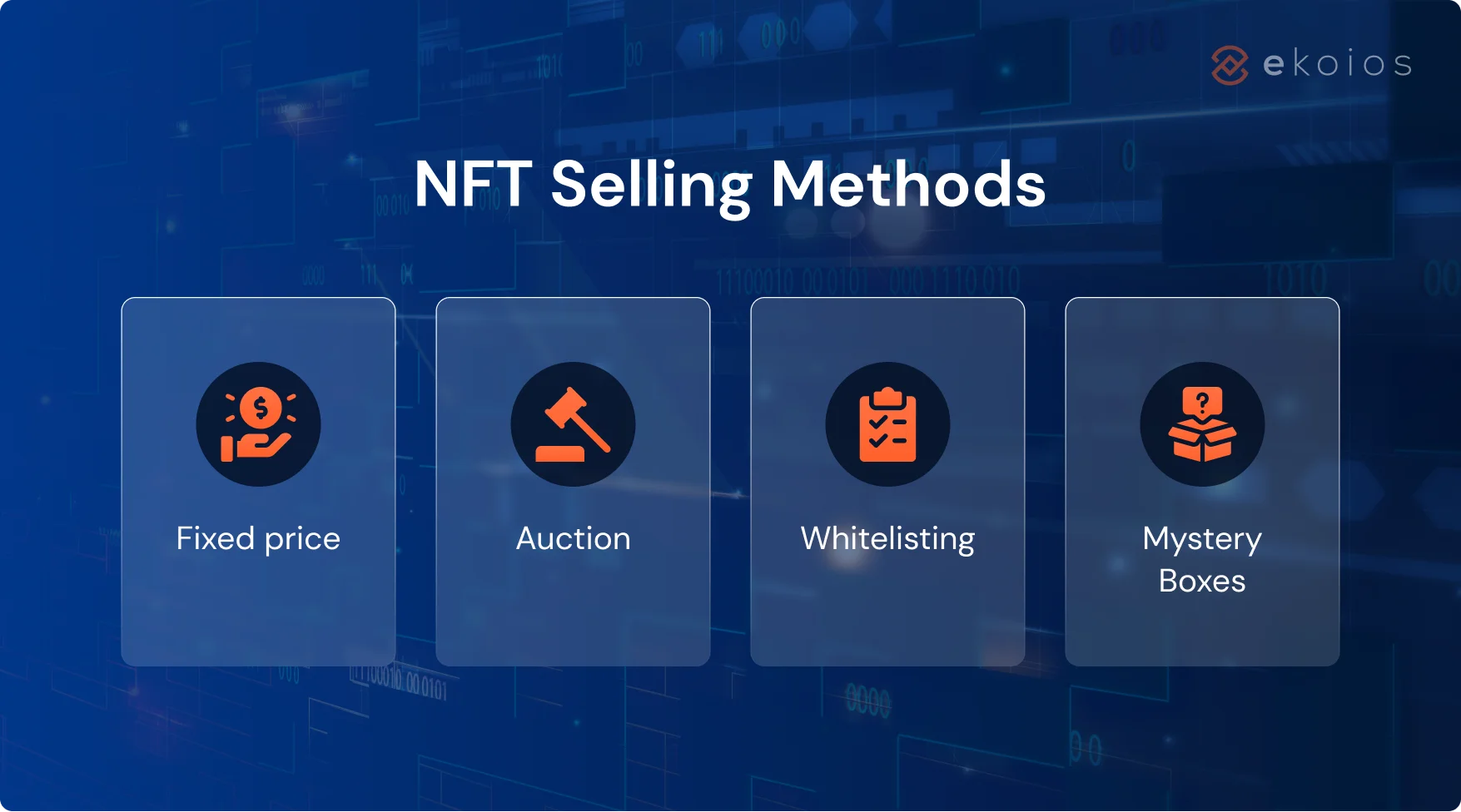 4. Customizable Storefront
90% of average users will most likely leave a website with a bad design! Make your marketplace one that captures their attention, stands out from others, and perfectly conveys your brand message.
The white-label product usually comes with design services, so you should pick one with the most beginner-friendly UX/UI to facilitate trading activities best. Furthermore, you also need to understand the gist of it for future updates and maintenance. See how you can tweak basic elements such as layout, buttons, text, and color, to advanced elements like effects and interactions.
🔸Dive deeper into our blog to discover all the factors that can impact your storefront redesign expenses
5. Storewide Management
A great white-label NFT marketplace should be built in a way that is convenient for you to manage your user activities, along with NFT revenue and royalties from both primary and secondary sales.
To expand the scale of the marketplace, you will also need partners and collaborators. These members shall be granted access to upload, sell and manage their NFTs, while you have an overview of them all.
6. Marketing Tool Integrations
We come to the last criterion: Marketing, the crucial factor in getting your marketplace the attention it deserves.
For the maximum impact, you will need a comprehensive marketing strategy, and a website competent enough to facilitate it. The list of key features should cut across: lead generation, search engine optimization (SEO), email marketing, analytics, and content management system (CMS).
Before we move onto the equally-significant part of selecting a solution provider, here's a quick recap of the features you'll absolutely need: an NFT marketplace that eases up the upload process, supports multiple chains & wallets, simplifies the storefront customization, facilitates store-wide management, and opens for marketing.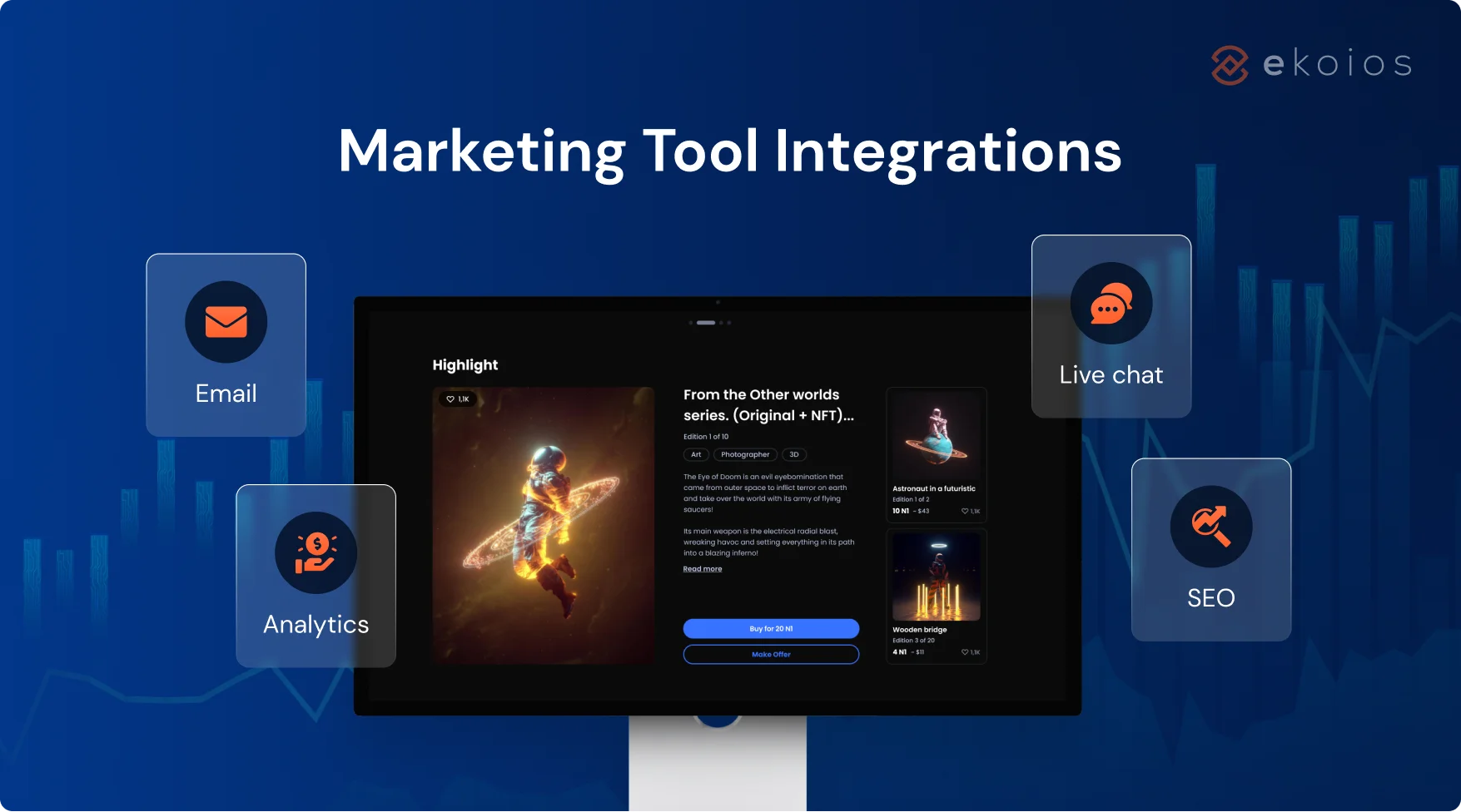 🔸 Read more: What Is A White Label NFT Marketplaces — A Beginner's Guide
How Do You Find A Good Solution Provider?
Just one search of "White-label NFT Marketplace" will bring you endless options. Besides looking for one that checks all the boxes, you need to check the credibility of these solution providers as well.
7. Competent Track Records
Actions, they say, speak louder than words. Therefore, researching or inquiring about the track record of the provider is the first step to take when assessing one. It would be great if you are able to verify the provider's track records with reviews from actual clients.
How many clients have the provider worked with? What is the caliber of these clients? How have their solutions helped transform business results? Just a few questions to keep in mind.
8. Technical Expertise
Building an excellent white-label NFT marketplace requires the provider to have a strong tech stack. In the backend, they must be professional in handling the nuances of smart contracts with programming languages such as Rust, Solidity, Javascript, etc.
Apart from the smart contracts, you should ensure that the provider can develop a decentralized data storage system like IPFS. Moving on to the front end, the provider should be proficient with languages such as React, HTML, and CSS.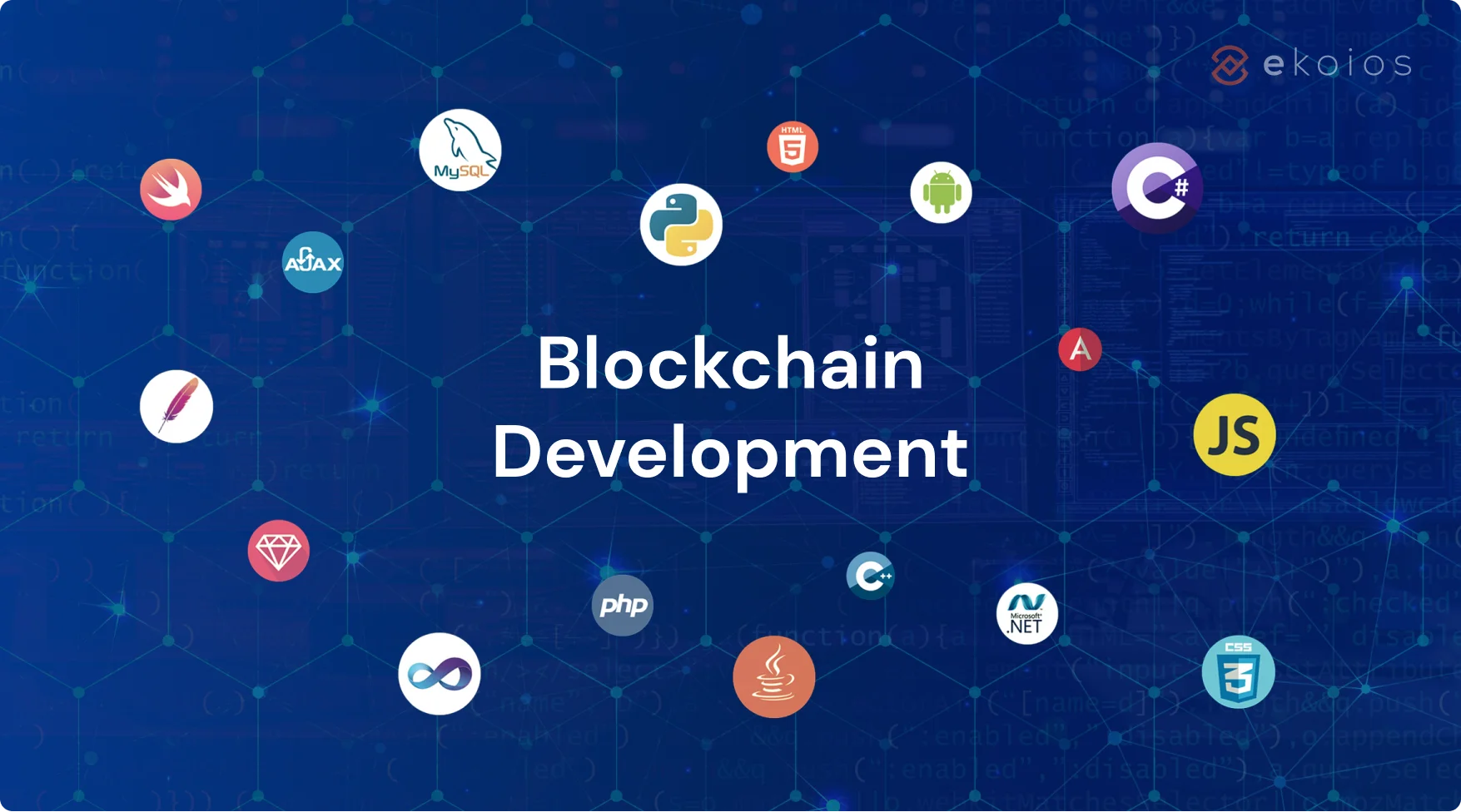 9. Adequate Resources
You have to make sure the provider has enough resources to customize the white-label solution to your own within the expected time frame. The process will require input from various departments including Design, Development, Management, Operations, and so on.
And by resources, we mean both infrastructure and manpower. Therefore, communicate your needs clearly with the provider and see if they come up with a viable plan.
10. Proven Security
Your marketplace, unlike the blockchain, is not immune to cyberattacks. Therefore, you should be extra careful about the security layers applied to the site. Accounts should be protected with multi-factor authentication, with limited permissions by account role. Additionally, each transaction must require direct verification from the user.
If you are not familiar with the field, consider getting a security firm to perform penetration tests and see if the provider has done the job properly.
11. Clear Delivery Model
An experienced provider will be able to give you a clear set of steps required to develop your NFT marketplace, with an estimated lead time for each.
You can refer to Ekoios' delivery model below as an example – we find it the most effective after years of collaboration with global businesses.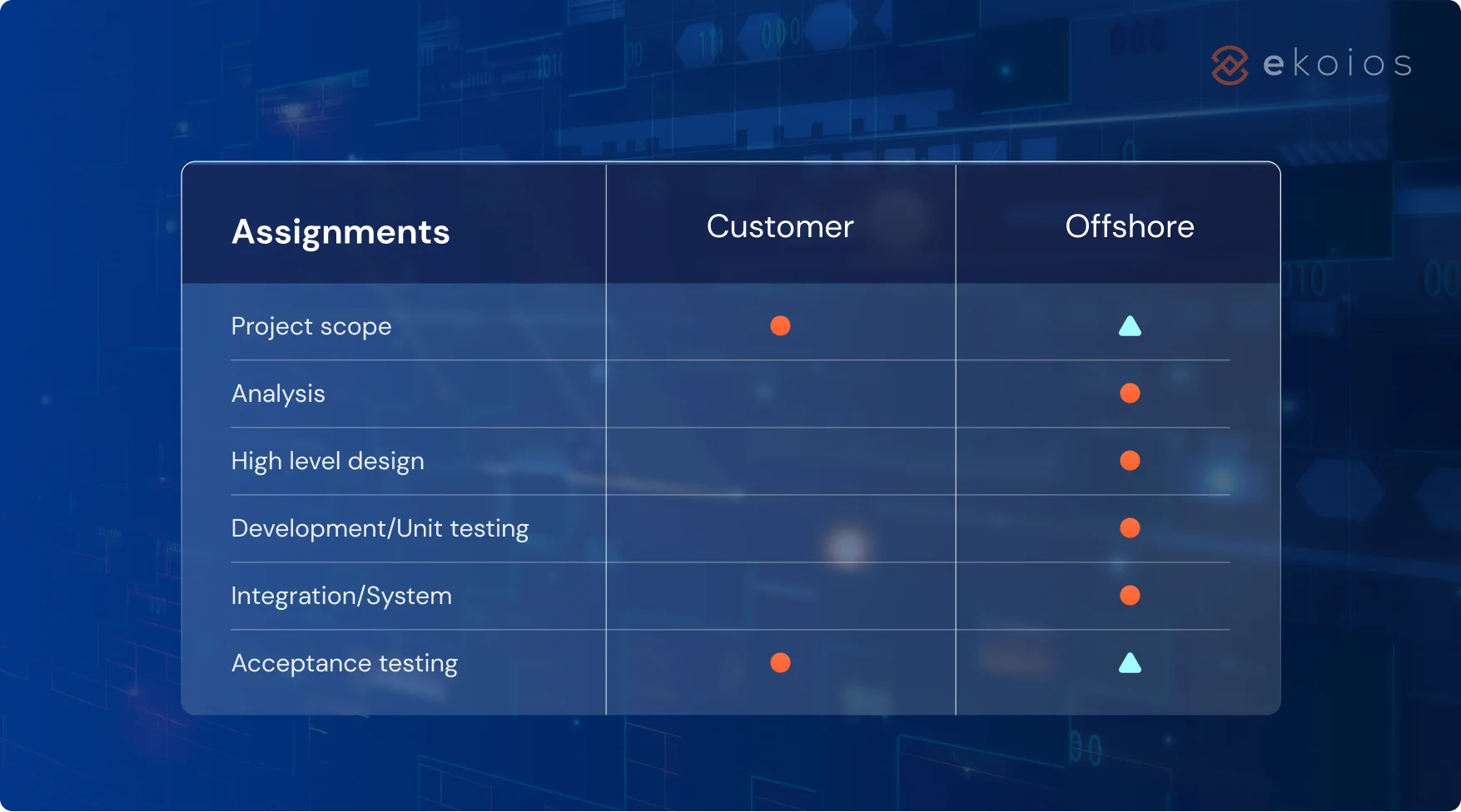 That's it for our top 11 things to consider when deciding on a White-label NFT Marketplace. Let us know if your top list is any different – and we'll get it updated!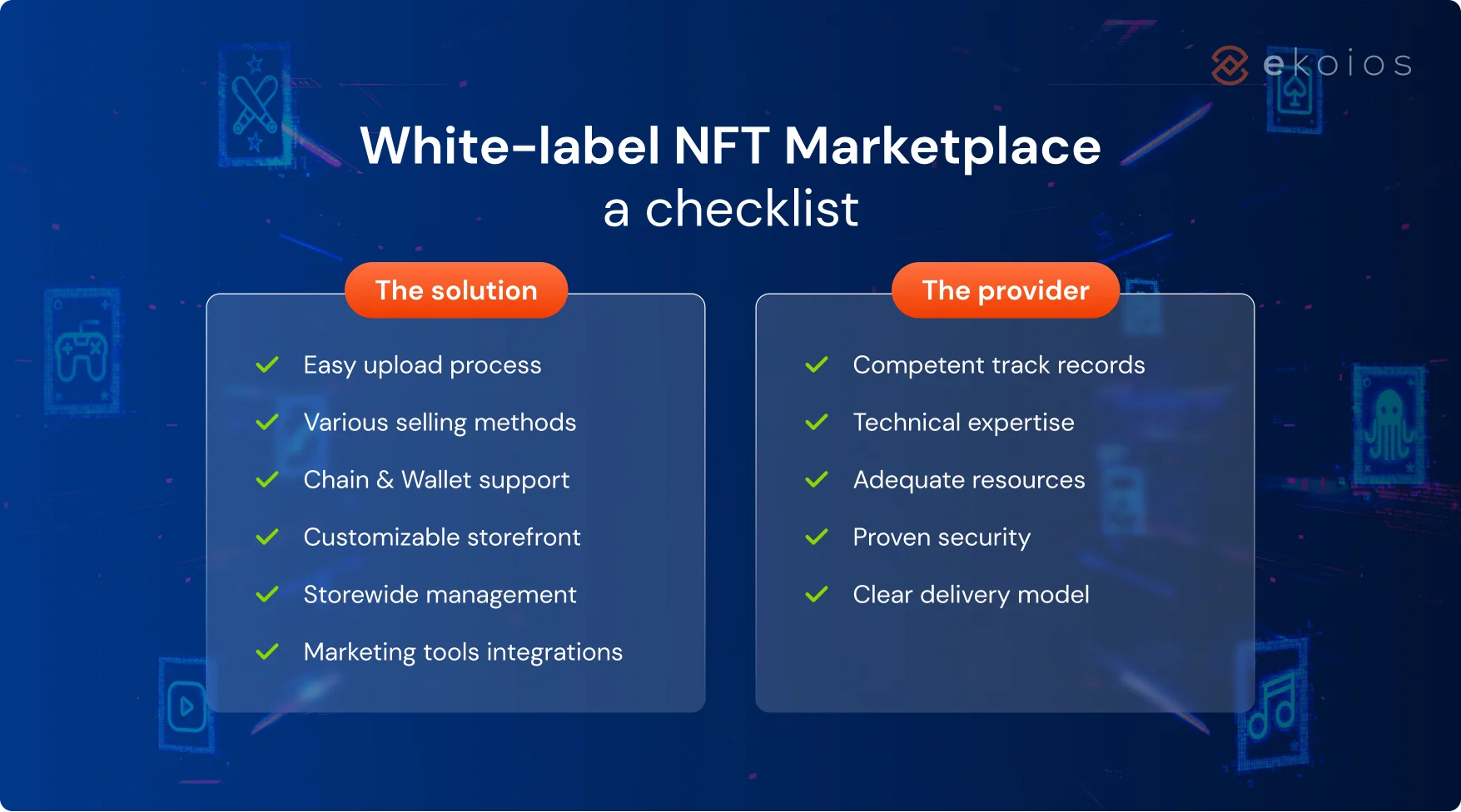 Why Ekoios is the go-to White-label NFT Marketplace Solution?
Because we provide everything that one marketplace needs, and more. Having deployed successful projects such as AddValue NFT Marketplace for Japan's Art Community, Ekoios' white-label NFT marketplace provides you with:
Multi-chain support
Versatile payment methods
High-grade security
Feature customization
User-friendly design UX/UI
All are packaged and delivered to you in a timely manner, at the highest quality. To see more details and get a custom quote, visit our dedicated page on White Label NFT Marketplace.
Established in 2015 with just a few members, Ekoios have become one of the leading IT corporations, contributing to the high technology industry in Vietnam and the world. With years of experience in blockchain & AI development, we provide innovative solutions for global clients of all sizes, from emerging startups to Fortune 500 companies.
Final words
So far in this piece, we have discussed the core features needed in a white-label NFT marketplace, as well as the criteria to evaluate a solution provider.
Even the Meta giant (formerly Facebook) is launching its NFT marketplace soon, so there is really no reason for you to hesitate. And if a flexible, scalable, and secure NFT marketplace is what you are looking for, contact us today to get it up – in just a matter of weeks!
Got a web3 business idea that you're confident with?
Browse our web3 development services and see what suits you
Company
Description
Links

1. Ekoios Technology
Ekoios offers the most diverse range of Web3 development services & white-label solutions, with a proven track record of 200+ successful projects delivered to startups and enterprises worldwide. The firm's strengths lie in its technical and consulting expertise in end-to-end development, and the commitment to on-time and high-quality delivery with excellent customer service.


Founded: 2018
Employees: 200+
Hourly rate: $25 - $49
Project size: $10,000+
Review score: 4.9 (9 reviews)
Web3 services: 6
Web3 solutions: 9



Visit website


2. SotaTek
As a part of Sota Holdings, SotaTek is a global Software Development as a Service (SDaaS) & Blockchain Development group with 1000+ in-house headcounts. They deliver sustainable Software Development (Web/App/Game), Blockchain, AI & Machine Learning, ERP & CRM, and Cloud solutions with success guaranteed.

Founded: 2015
Employees: 500+
Hourly rate: $25 - $49
Project size: $10,000+
Review score: 5.0 (29 reviews)
Web3 services: 7
Web3 solutions: 1



Visit website


3. Newwave Solutions
Established in 2011, Newwave Solutions is a custom software development company with over 300 employees dedicated to providing efficient solutions. Blockchain development is one of their new offerings, but the company has gained for themselves quite a portfolio in this area.

Founded: 2011
Employees: 300+
Hourly rate: <$25
Project size: $10,000+
Review score: 4.8 (26 reviews)
Web3 services: 6
Web3 solutions: 1



Visit website


4. Savvycom
With over a decade of experience, Savvycom has hands-on experience in Web3 services and solutions. Boasting over 93% customer retention rate, they have a good track record of producing good quality works while still remaining affordable and quick to deliver.

Founded: 2009
Employees: 300+
Hourly rate: $25 - $49
Project size: $50,000+
Review score: 4.8 (9 reviews)
Web3 services: 7
Web3 products: 5



Visit website


5. Synodus
Synodus is one of the fastest growing Web3 companies in Vietnam, thanks to their results-oriented work ethics, their seasoned subject-matter experts and passionate engineering team who can assist you at any stage of your journey to success.

Founded: 2019
Employees: 100+
Hourly rate: $25 - $49
Project size: $5,000+
Review score: 5.0 (3 reviews)
Web3 services: 9
Web3 products: 3



Visit website


6. MLTech
With over 100+ digital solutions delivered and 90% referral projects, MLTech is a promising Web3 company with expertise ranging from ICO, smart contract developments to custom blockchain network and cryptocurrency developments.

Founded: 2020
Employees: 50+
Hourly rate: $25 - $49
Project size: $25,000+
Review score: 5.0 (3 reviews)
Web3 services: 8
Web3 products: 0



Visit website


7. TwenDee
Founded in 2018, Twendee is a 4-year rookie steadily rising to become one of the top Web3 companies in Vietnam. The company has over 60 success projects with a 98% customer retention rate which speaks a lot about the quality of work.

Founded: 2018
Employees: 50+
Hourly rate: <$25
Project size: $5,000+
Review score: 4.8 (2 reviews)
Web3 services: 9
Web3 products: 3



Visit website


8. NCC
Established in 2014, NCC has quickly affirmed its position in the market and become a prestigious information technology enterprise in Vietnam. Despite having only just recently got into industry, their blockchain services are excellent and with a focus on fintech, proptech and insurtech.

Founded: 2014
Employees: 500+
Hourly rate: <$25
Project size: $10,000+
Review score: 4.8 (2 reviews)
Web3 services: 7
Web3 products: 0



Visit website
Get the best insights to your inbox
I would like to receive communications about Ekoios tailored to my interests and preferences, including latest news about products, services, events and promotions. For more information, please see our
Privacy Policy
.
Get the best insights to your inbox
I would like to receive communications about Ekoios tailored to my interests and preferences, including latest news about products, services, events and promotions. For more information, please see our
Privacy Policy
.
Thinking of outsourcing to Vietnam?
Find out which firm is your best suit with our guide of Vietnam's top 21 outsourcing companies, covering all domains and industries.