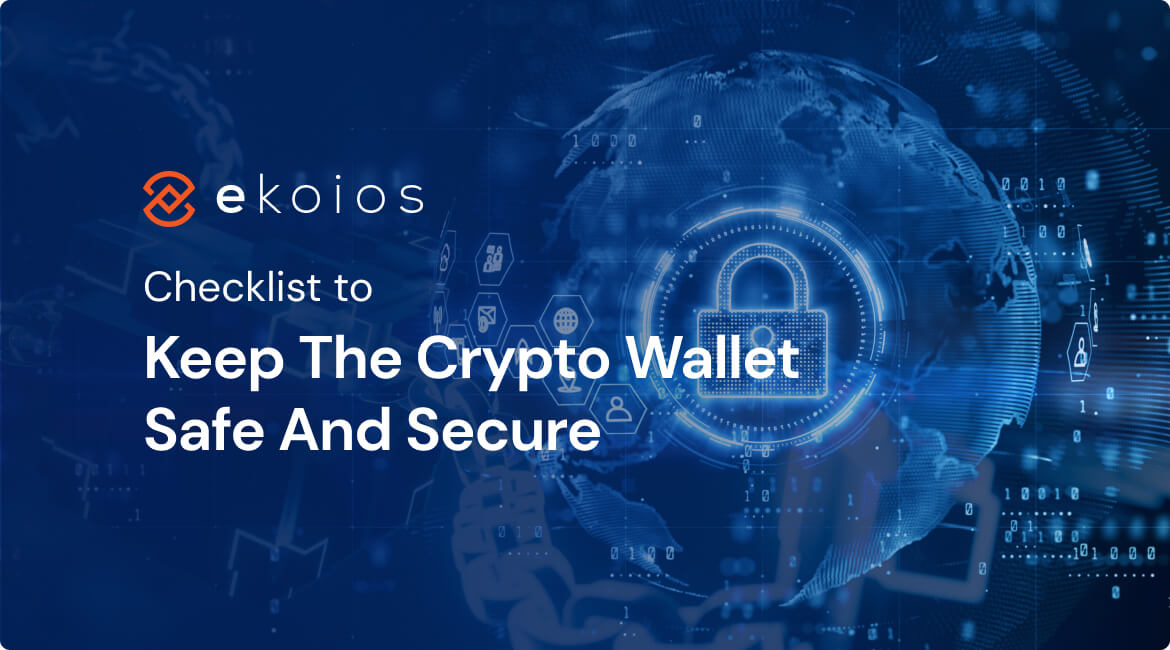 With the vast development of cryptocurrency, the crypto wallet comes into the scene with a variety of formats and functions to help to store these valuable cryptos. A crypto wallet indeed doesn't hold your crypto but stores a private key that allows you to access the crypto assets and make transactions. Anyone who possesses this private key can steal your crypto or make some fraudulent transactions. Cybercriminals can take advantage of loose security measures of new users and use advanced techniques to steal the crypto. Therefore, it is essential to know how to set up stable and firm protection measures over your crypto wallet to keep your crypto always safe. Let's find out the best storage solutions and a useful checklist to keep crypto wallet safe below.
Using hot/cold crypto wallets
1. Hot wallet
A hot wallet refers to an online wallet. These are the wallets that operate on internet-linked devices such as mobile phones, desktops, or tablets. Sometimes, these types of wallets can generate vulnerabilities as they provide private keys to access your crypto via internet-connected devices.
Even though hot wallets can help you access your wallet swiftly and make transactions in a minute, they can present a lack of security. Thus, it is recommended that you should use a moderate amount of crypto in hot wallets. This amount can be used for daily transactions and trading. The rest of the crypto can be kept in other wallets. Besides, you should also consider other conditions when using hot wallets.
Firstly, the wallet should have backup phrases so you can win back the wallet in case your wallet is damaged. A safe device is also another thing to consider. You should make sure that your laptop is in firewall-operated mode, and virus-scanned, so you can mitigate the threat of a virus attack. Besides, the devices should be updated regularly to reach the best version with high security and effective functions.
2. Cold wallet
Using cold wallets is recognized as one of the safe ways to keep your cryptocurrency. A cold wallet is simply a wallet that is unconnected to the internet and hence can keep your private key offline. In this way, your crypto is inaccessible to everyone except the holder of access codes and hence remains a lesser risk of cyberattacks.
The cold wallet contains 2 wallet types:
A paper wallet is perhaps the most secure way to store your crypto offline since the Bitcoin project was born. This wallet provides public as well as private keys that are printed out on paper. This piece of paper is the only way for you to access crypto with these addresses. You can keep the paper safely in some deposit boxes in the bank or in some safe places in your home so you are never worried about your private key being leaked out.
A hardware wallet often is in the form of a USC device that stores your private keys. The wallet shows clear security advantages because it is unaffected by viruses. The privates of the wallets lie on the hardware device like USB instead of staying in the network-connected devices or other vulnerable online software.
After choosing cold wallets for safe security, you should also consider other things. A quality wallet should have a recovery phrase that contains a code for recovering the wallet. If your wallet is lost or damaged, this recovery phrase can help you win back your wallet.
A security level is another thing you should look out for. A high-quality security chip is recommended for keeping the crypto wallet safe. The last thing is the ease of use. You may choose the wallet that is easy to use, help you easily navigate through the wallet interface, and provides you with a set of useful functions. Thus, you can have full control of your wallet and know the way to keep it safe.
📌 Related topic: What is a crypto wallet and different types of crypto wallets?
Internet connection
While you do the transaction with cryptocurrency, make sure that you use a secure internet connection and try to avoid the public Wi-fi network. When at home, you can consider using the home network or VPN for extra security. A VPN can help you to change your location and IP address, so you can remain your browsing activity safe and private from eternal internet threats.
Multiple wallets
As an old saying goes, don't put all your eggs in one basket. As there is no restriction for wallet creation, you should split your crypto investments into multiple wallets. You can choose one wallet to do your transaction daily and use the rest to store your currency. This way can help you mitigate the loss from any cyber-attacks.
Wrapping up
Based on your purpose and criteria, you can consider all the factors listed above and choose the most suitable crypto wallet for you. Take an effective strategy for wallet usage of wallet and set a to-do list of security measures so that you can confidently trade with your cryptocurrency without worrying about cyber-attack and other internet threats.
There are many blockchain development companies that build high-quality crypto wallets presenting multiple effective features and high-security systems. Ekoios is one of them. Ekoios group is the leading blockchain company in Vietnam with a long experience in this technological field and a team of outstanding experts. Ekoios team has been working with many big enterprises to build crypto wallets from the sketch design to the completed products with an array of effective functions. Many wallet projects have come into the world and received huge success, can be listed as VC wallet, or BitCoin Value.
The crypto wallet is just one part of our whole blockchain services and products, containing a Cryptocurrency Exchange, Mining, Wallet Development, Cryptocurrency, Bridge, Blockchain Consultants, etc. Plenty of those is demonstrating great applicability in the crypto field and helping enterprises and customers to do business in the crypto market.
Got a web3 business idea that you're confident with?
Browse our web3 development services and see what suits you
Get the best insights to your inbox
I would like to receive communications about Ekoios tailored to my interests and preferences, including latest news about products, services, events and promotions. For more information, please see our
Privacy Policy
.
Get the best insights to your inbox
I would like to receive communications about Ekoios tailored to my interests and preferences, including latest news about products, services, events and promotions. For more information, please see our
Privacy Policy
.
Thinking of outsourcing to Vietnam?
Find out which firm is your best suit with our guide of Vietnam's top 21 outsourcing companies, covering all domains and industries.