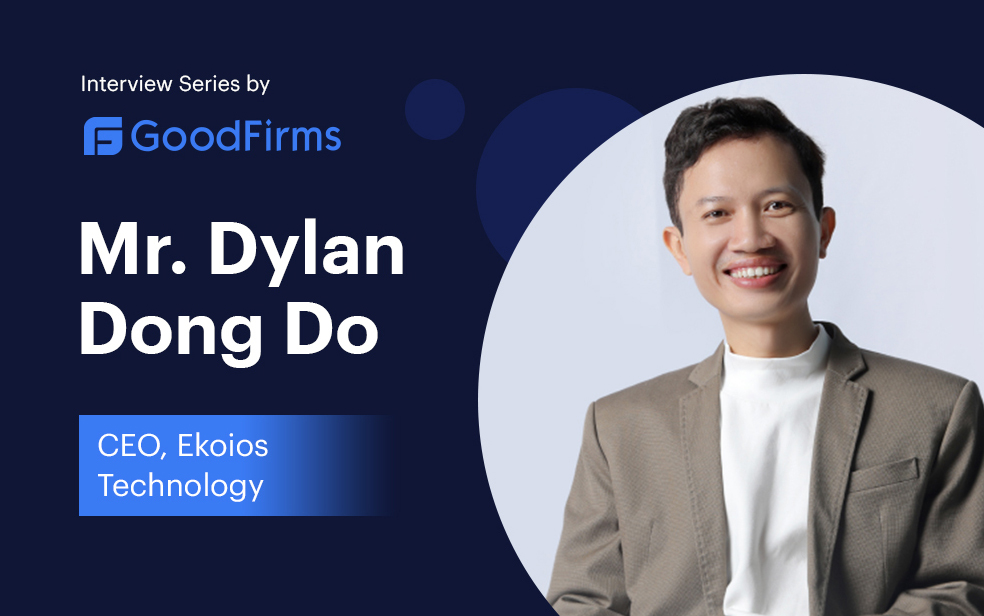 Three technology experts brought a new way of spearheading Blockchain & AI, and there existed Ekoios. Get along with the entire story behind the company's inception by Mr. Dylan Dong Do, the CEO of Ekoios Technology.
Established in 2018, Ekoios Technology is a Vietnam-based IT corporation that helps startups, mid-level businesses, and giant corporations harness the power of AI and Blockchain. The company produces universalized high-tech products and brings them into real business applications.
Dylan Dong Do, Nikita Ngan Nguyen, and Tommy Le are the founders of the company. He initiated this venture after seeing the immense potential growth and demand for AI and Blockchain solutions among clients globally. The company operates in 7 countries so far and has served over 54 clients accomplishing more than 198 projects by their experienced and talented staff of 120 developers and engineers.
In an interview with GoodFirms, Mr. Dylan Dong Do, the CEO of Ekoios Technology, shared how the company came into reality and how it performs to provide relevant solutions to its clients.
Mr. Dylan starts the interview by sharing that the technology world will soon rely on these two next-gen technologies, i.e. Blockchain and AI. Thankfully, a wide technical background and a significant client network after working in the IT industry for over 15 years, the trio became able to quickly build the team and client base for Ekoios Technology right from the beginning.
While asking about the company's business model, he said that Ekoios is an entirely in-house company. However, a few trusted partners are also associated with the company, strengthening their capabilities and making it a one-stop-shop for their customers.
Mr. Dylan affirms that Ekoios is one of the very few companies in the Asia Pacific region that focus mainly on Blockchain and AI development services. It is also different from a typical outsourcing company, as the company's service level is quite higher, including consultation, requirement consolidation, design to development, and operations & maintenance. The company has managed to develop various white-label blockchain solutions that clients can adapt quickly as well as easily with little adjustments. This ultimately helped most of their clients to shorten the time to market their products and services.
As Dylan claims Ekoios Technology is one of the best blockchain solutions providers in the SEA region, the Fintech industry and the companies looking to migrate with blockchain technology are primarily focused on the company.
Regarding which industry they generally cater to, he confirmed that Ekoios delivers products catered to specific needs such as NFT marketplace, Crypto Wallets, Staking, LaunchPad, DEX, CEX, etc.
Dylan shared that most of the services Ekoios Technology offers include blockchain white-label solutions
Crypto Exchange Platform,
Crypto Wallet,
NFT Marketplace,
DeFi Staking Platform,
Token Vesting Tool,
NFT Minting Platform, and
Launchpad Development
that saves a lot of time and money for their projects.
Besides, the clients also place immense confidence in the company professionals for providing blockchain-related services such as dApp Development, Blockchain Consulting, Smart Contract Development, Tokenization, etc. owing to the high quality and efficiency of the outcome. Hence, Ekoios Technology is ranked among the top Blockchain Technology Companies in Vietnam that aims at benefitting its customers with the best possible solutions.
Mr. Dylan and his company give immense importance to customer satisfaction and ensure that the end result in every project always meets or even exceeds the expectations of their customers. GoodFirms and Clutch reviews best depict 100% client satisfaction rate the company owns. Check out the reviews below to know more about how Ekoios Technology is rated among its customers.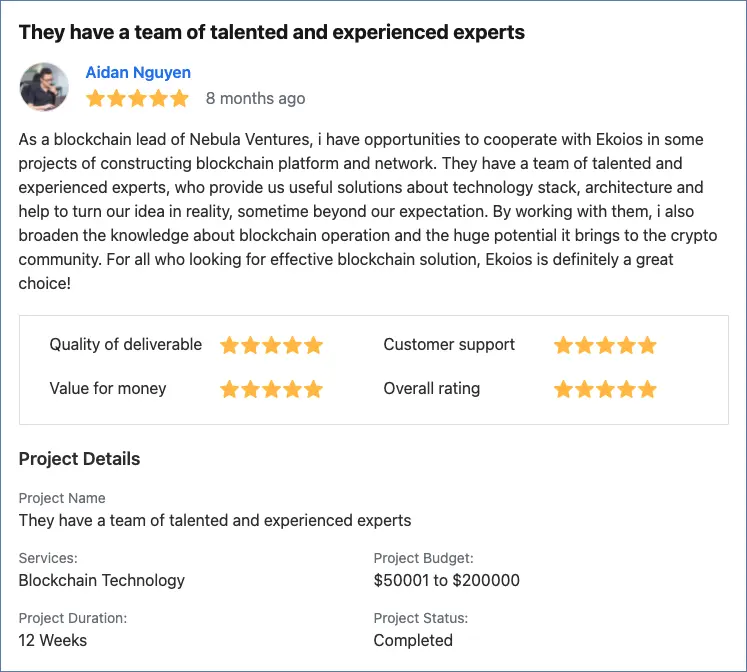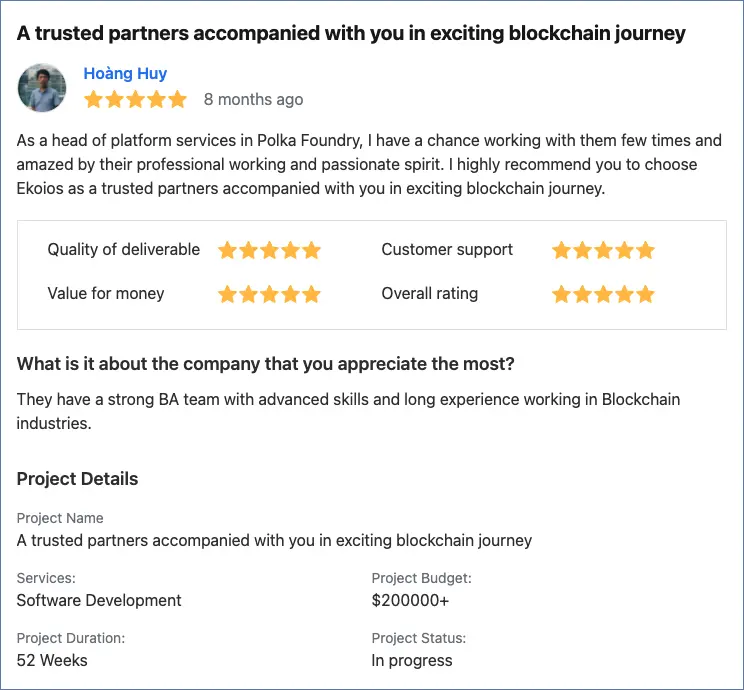 Ekoios Technology always tries to maintain easy and fast support facilities to their clients. The Accounts Manager and Project Managers of respective teams take necessary steps to communicate with the clients and bring the best solutions for clients as well as development teams. The company follows both the Fixed Cost as well as Time & Material Cost payment structure depending upon the type of the project and the situation of the customer. Dylan says that they listen to their customers carefully and assure them to have the best payment structure and working method to fulfill their project.
While taking projects, the company tries to be as flexible as it can. However, the rising overheads typically make the projects have a budget of $50,000 and above. The most expensive project the company has ever worked on in 2020 was $200,000.
Mr. Dylan and the team at Ekoios Technology are quite optimistic about their opinion on the future of the company. He says that
"As Blockchain is growing and changing so fast, I will look forward to a 5-year goal. We can see ourselves becoming the top IT company providing blockchain development services in the SEA region. Within that time, we're aiming for that top 3 position which, considering that we're already the leading blockchain development company in Vietnam, sounds totally doable."
Here concludes the interview and you can read the detailed interview on the GoodFirms page of Ekoios Technology to know more in this regard.
About GoodFirms
Washington, D.C.-based GoodFirms is a maverick B2B research and reviews firm that aligns its efforts in finding web development and web design service agencies delivering unparalleled services to its clients. GoodFirms' extensive research process ranks the companies, boosts their online reputation, and helps service seekers pick the right technology partner that meets their business needs.
About the Author
Prepared by Anna Stark, a Content Writer at GoodFirms, who bridges the gap between service seekers and service providers. Anna's dominant role lingers to form every company's achievement and critical attributes into words. She strongly believes in the charm of words and equips new approaches that work, always with concepts.
Get the best insights to your inbox
I would like to receive communications about Ekoios tailored to my interests and preferences, including latest news about products, services, events and promotions. For more information, please see our
Privacy Policy
.
Get the best insights to your inbox
I would like to receive communications about Ekoios tailored to my interests and preferences, including latest news about products, services, events and promotions. For more information, please see our
Privacy Policy
.
Thinking of outsourcing to Vietnam?
Find out which firm is your best suit with our guide of Vietnam's top 21 outsourcing companies, covering all domains and industries.