First popularized by bitcoin, however, the applications for blockchain go way beyond just cryptocurrency. The key lies in its distributed ledger technology, with the ability to innovate business models, and even the potential to transform how the world works. Adopted by finance, healthcare, real estate sectors & countless others, this article aims to give you an overview of blockchain, blockchain use cases and what is possible with this technology.
Blockchain explained
To put it simply, a blockchain is a giant ledger that records and verifies every transaction. All the data is publicly distributed among the computer network without the control of any single entity. Thus, no updates can go unnoticed, even though the personal identity will be kept anonymous. 
Within the ledger, also known as the chain, each transaction is a block of information that must meet certain criteria and be verified by other parties according to its consensus algorithm. The process goes like this: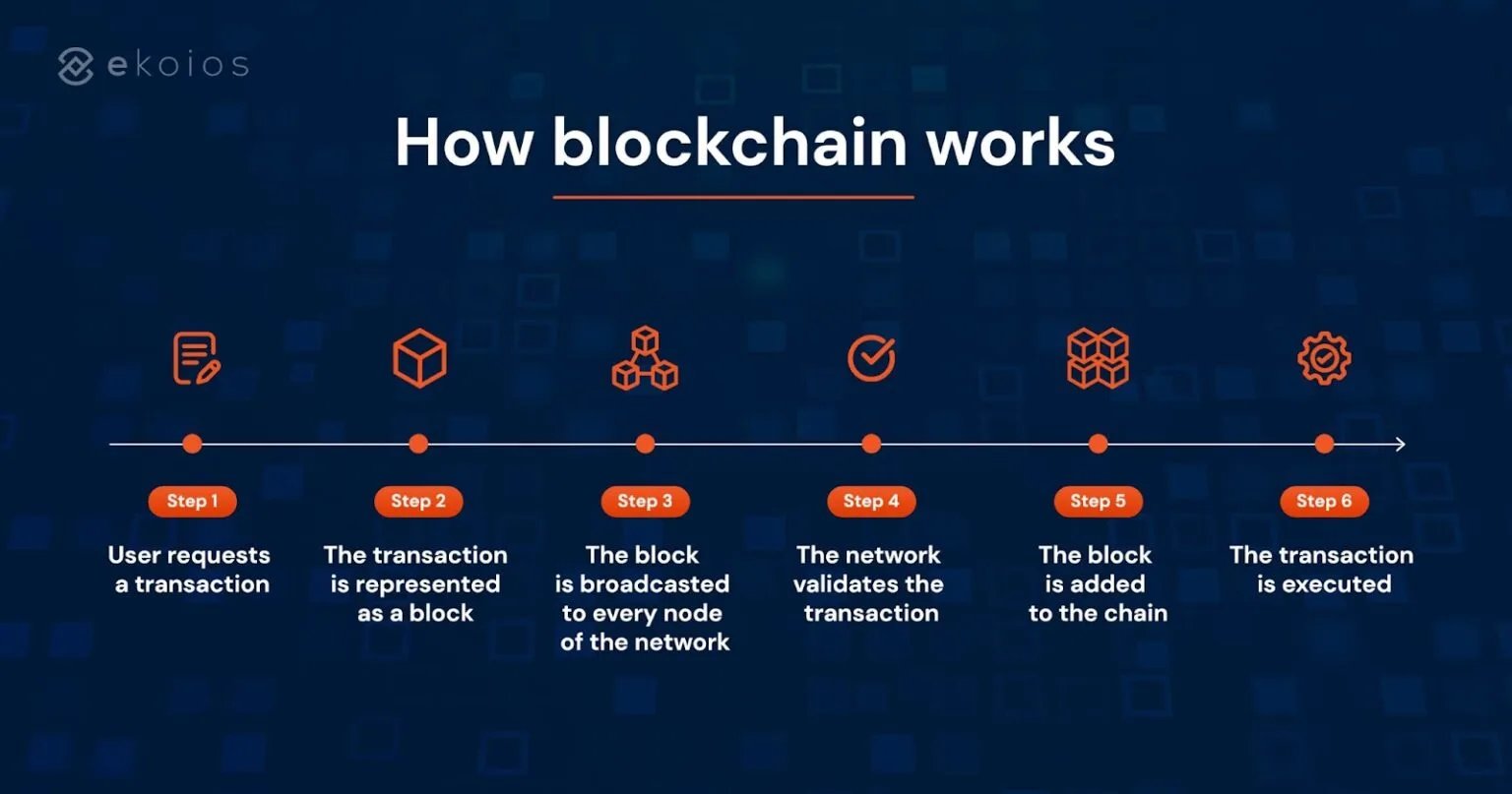 Blockchain has 5 prominent characteristics:
Decentralized: the chain is operated by its participants, free from any central authority
Secure: every entry will be verified and protected with a cryptographic function
Anonymous: transactions are handled only by unique blockchain addresses that represent users
Immutable: as the data is transparent, any tampering will be recorded
Peer-to-peer: users can communicate with each other without any intermediaries
Blockchain benefits for businesses
To its capacity to transfer data in a rapid and secure manner within a distributed network, blockchain development brings significant value no matter which industry. Let's quickly walk through the 6 main benefits the technology offers.
Decentralized structure: 

There is no single point of control in a blockchain, meaning that the system cannot be corrupted by any individual for their own benefit.

Blockchain is called a "truthless" network not because the parties within one don't trust each other, but because they don't have to.

Enhanced security:

 Each block of information is end-to-end encrypted and can't be altered, making it immune to fraud and cyberhacking. Blockchain even takes security one step further with anonymized personal data and a network of computer servers.  

Complete transparency:

 Companies used to have separate databases for record-keeping. But blockchain makes it possible to store data identically across locations, providing full transparency to all network participants.

Instant traceability: 

Literally means "a chain of blocks", blockchain creates an audit trail for every asset at every single change. You can freely analyze this trail to detect trends and insights, or share it with anyone of interest.

Increased efficiency: 

Data used to be manually input and approved –  a process that is so time-consuming and prones to human errors. Streamlining this with blockchain will save your business time, resources, and costs while speeding up in speed, accuracy, and efficiency.

Counterfeit prevention:

Blockchain can easily identify provenance a.k.a the proof of origin of an asset, from its raw materials to the finished product that ends customers receive, leaving no place of disruption for counterfeits.
📌 Read more about the blockchain development process
6 Blockchain use cases by industry
It has been more than a decade since blockchain was first introduced, and the number of applications has been growing non-stop. There is really no exhaustive list, so we're just gonna focus on some of the most outstanding blockchain technology use cases, and how leading corporations and startups across industries are making it to their advantage.
1. Banking & Finance use cases for blockchain
Blockchain digitalizes financial instruments to enable trade with more liquidity and speed, but at a much lower cost. The most outstanding cases are:
Facilitate efficient, transparent, and secure international payments

Expedite the fundraising process via the use of tokens

Make the loan process easier and speedier for lenders and borrowers

Streamline the trading process by digitalizing assets and eliminating manual paperwork

Reduce the cost for financial institutions and users by removing intermediaries
You know it's the real deal when Wall Street banks are beefing up their blockchain talents and investments, with the crypto team at JPMorgan officially reaching 200 members.
📌 Read more: Using Blockchain for Cross-border Payments
2. Healthcare use cases of blockchain
In the health sector, blockchain proves most effective in the verification of personal identity and medical equipment, along with the management of supply chain and patient data. Here's how:
Ensure the authenticity of medical goods with blockchain-based systems

Make patients' medical records comprehensive and accessible across different providers

Smart contracts for quick insurance and supply chain settlements

Track medical credentials to speed up the staff hiring and patient admission process
Take MediLedger as an example. The blockchain-based project is backed by 24 leaders in the US Pharmaceutical Supply Chain to make the prescription drugs system traceable and interoperable.
3. Real estate use cases blockchain
With transactions streamlined and fragmented, sellers can have an easy time managing properties, and buyers can own them at a significantly lower starting price. Blockchain use cases technology can:
Tokenize real estate assets to fasten liquidity and allow fractional ownership

Cut out intermediaries to speed up the process and save up on commissions

Trim down transaction costs such as loan fees, taxes, registration fees, etc.

Increase transparency and prevent fraud with blockchain-stored data
It is not the future, it is happening now. The 4 pioneering platforms in asset investments have raised over $1.2 billion in venture funding, servicing more than $165 billion of client assets.
4. Supply chain
We've mentioned the supply chain above, but here is a thorough explanation of how blockchain benefits the sector, remarkably.
Make supplier payments easy, secure, and quick no matter where they are

Record product status at each stage of production and transportation

Grant participants greater visibility across all supply chain activities

Optimize operations with automated smart contracts based on pre-defined triggers

Reduce paperwork and administration costs

Minimize loss from counterfeit & gray market trading with provenance authentication
One small example: The two giants Walmart and IBM have developed a blockchain solution to strengthen accuracy and safety in the supply chain of China's massive pork industry.
5. eCommerce & retail blockchain industry use cases
Blockchain can be used in almost every aspect of ecommerce: from logistics, authentication of traders, transactions & products to payment and customer retention.
Allow global consumers to purchase without banks as intermediaries

Build rewards and loyalty programs spanning sites and brands

Reduce the cost and complexity of supply chain management

Assure consumers of product quality and authenticity with blockchain traceability
Global eCommerce platforms like Shopify and WooCommerce are planning for a future involving crypto, NFTs, and so much more to come.
6. Web3 Gaming 
Who would have thought that playing games can be actually profitable? Blockchain made that happen, along with many more utilities.
Facilitate the ownership and trading of in-game assets

Enhance the value projection of intangible digital collectibles

Allow game building and reward earning via the blockchain mining procedures

Give players greater control over their favorite games' development roadmap
As a result, the popularity of blockchain use cases in web3 gaming and metaverse projects is already on the brink of overtaking PC games, having raised a total of $2.5 billion in just Q1 of 2022.
7. Notable mentions
The technology is seeing rapid adoption even in government sectors for education and record-keeping and other technical areas such as IoT, telecom, and cybersecurity.
Implement blockchain in your business
Adopting new technology is not something that can be done overnight. We usually advise businesses to start with single-use applications to get people acquainted and minimize the associated risks. For instance, you can add crypto as an extra payment method, or move a part of your database to a blockchain, then examine the impact it has on your business.
⭐️ Pro tips: Speaking of full-scale blockchain adoption, it makes sense to consider its practical usage, with the details laid out in this article, and plan on acquiring the needed talent and technology.
To quote Ernst & Young, blockchain will be a viable solution to your business if it ticks 3 out of these 5 boxes:
Multiple businesses are involved in your transaction

There is shared logic between the parties

It is critical to have tamper-proof records of transactions

Your business is managing a finite

resource

 such as inventory or assets

Your industry ecosystem benefits from increased transparency
Still, following through? Then you need to decide on which blockchain platform best fits your business nature, and whether your chain shall stay public or private.
Final notes
Blockchain surely tackles traditional business models with innovative solutions, but it's gonna take a long time for the adoption process to be gradual. Technology might not instantly transform society, but organizations can start prepping for the day when it reaches its full potential. And yours can do that by integrating blockchain use cases, one by one, starting today.
Got a web3 business idea that you're confident with?
Browse our web3 development services and see what suits you
Get the best insights to your inbox
I would like to receive communications about Ekoios tailored to my interests and preferences, including latest news about products, services, events and promotions. For more information, please see our
Privacy Policy
.
Get the best insights to your inbox
I would like to receive communications about Ekoios tailored to my interests and preferences, including latest news about products, services, events and promotions. For more information, please see our
Privacy Policy
.
Thinking of outsourcing to Vietnam?
Find out which firm is your best suit with our guide of Vietnam's top 21 outsourcing companies, covering all domains and industries.