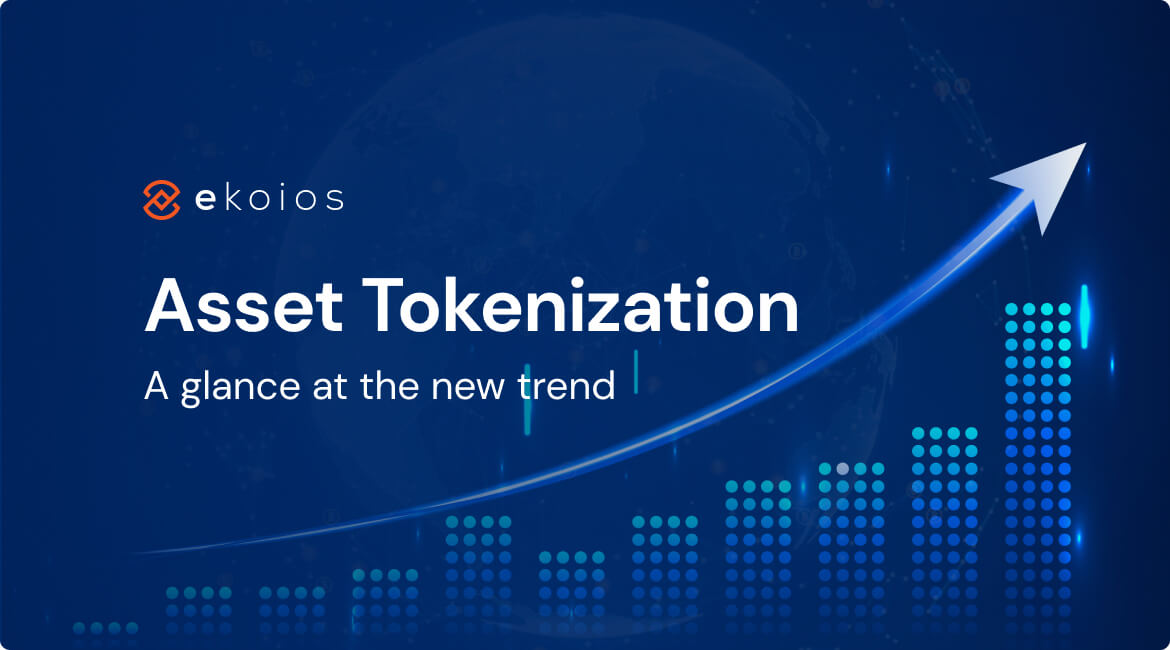 The world of investing is constantly evolving, and with the emergence of tokenization, it's about to undergo another major transformation. Tokenization is changing the way we invest in assets, from real estate properties to precious metals and even company shares, converting these assets into digital tokens on the blockchain. In this blog post, we'll explore the process of asset tokenization and its potential impact on the future of investing.
Asset Tokenization: A simple explanation
Asset tokenization is the process of converting rights to an asset into a digital token on a blockchain or distributed ledger. This token can then be traded, transferred, and managed in a secure and transparent manner.
🔎 Imagine you want to invest in real estate but only have $20,000 to start with. This was previously impossible in the real estate industry, where even a few square meters of an apartment can be prohibitively expensive. But if an apartment worth $500,000 is converted into 1,000 tokens of $5,000, you can now purchase a small share of the house!
On the other hand, if you own that $500,000 apartment and need quick cash, tokenization can help you unlock the value of your property. By converting your apartment into tokens, you can sell ownership shares to interested buyers on a blockchain platform that supports smart contracts, such as Ethereum. This allows you to sell only the amount you need, such as 400 tokens for 40% ownership.
Blockchain's immutable public ledger ensures that token ownership cannot be deleted, even if it's not registered on a government-run registry. We have recorded an increasing use of asset tokenization across industries – let's find out why.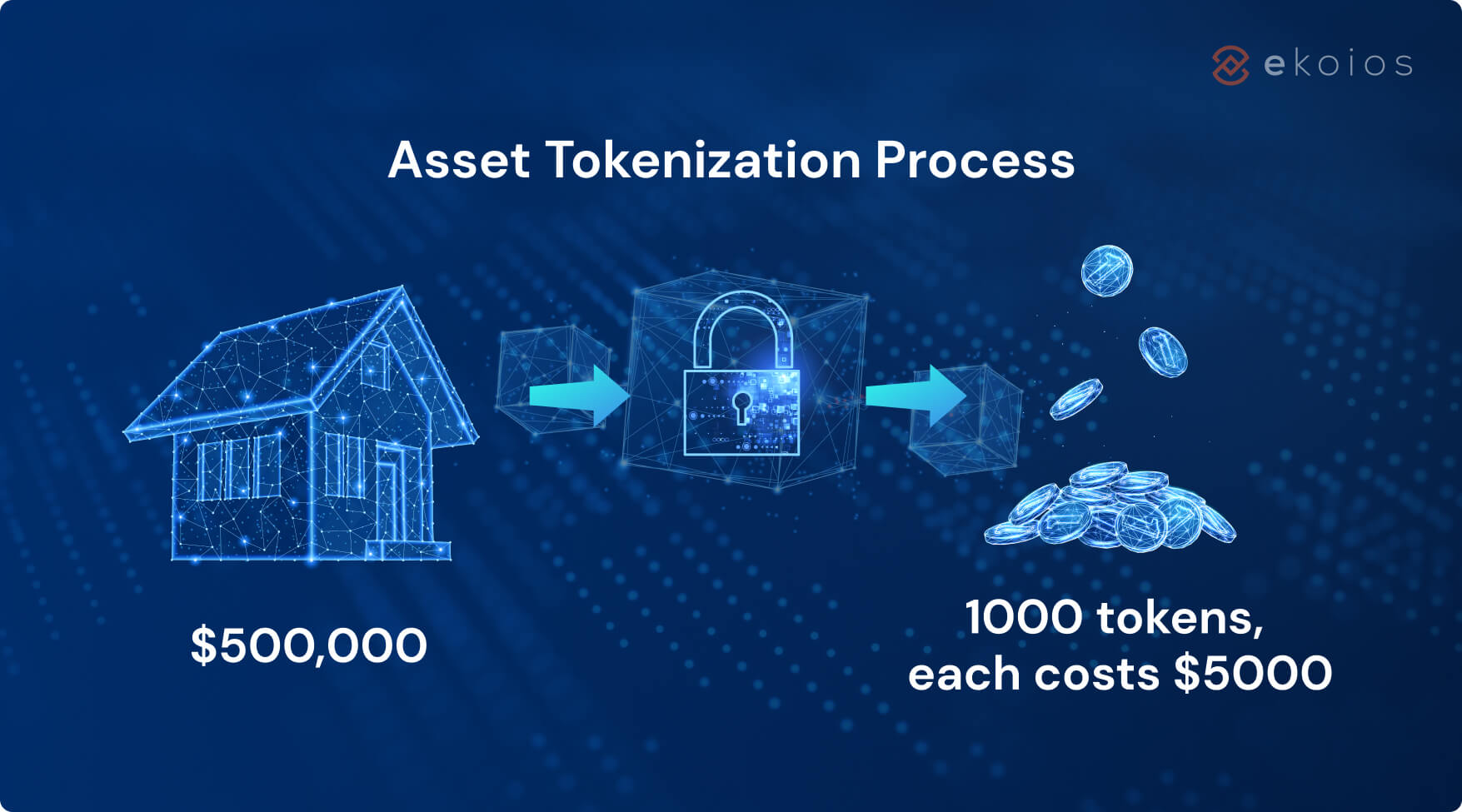 5 benefits of asset tokenization
Global access: Investors can securely and easily invest in properties located anywhere in the world, without the need for physical presence.
No intermediary fees: Asset trading typically takes several weeks to months to complete, as it requires external entities to verify transaction documentation and investor eligibility, adding extra costs to the process. However, asset tokenization eliminates the need for intermediaries by leveraging blockchain's immutability and transparency.
Fractional ownership: Tokenization breaks down ownership into smaller percentages, making it easier for a wider range of investors to enter the market.
Liquidity enhancement: Tokenization automates the transfer of ownership while staying compliant. This reduces cost and complexity, making it easier to invest with both fiat and crypto on regulated exchanges, which drives liquidity higher as a result.
Quick transactions: The entire exchange process is automatically completed within seconds, thanks to the use of smart contracts for token and payment transfers.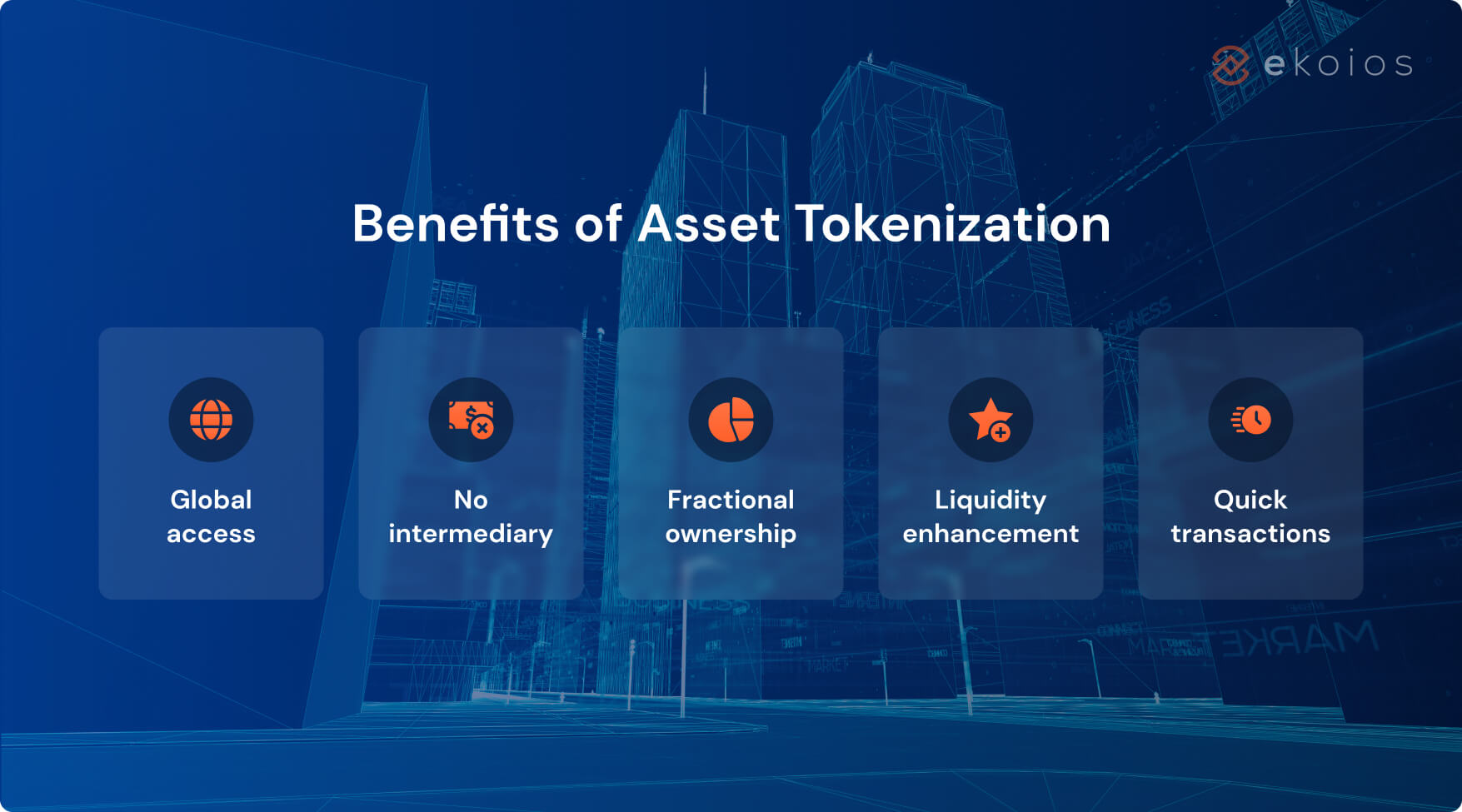 With all the benefits listed above, asset tokenization is expected to remain a significant trend for many years to come, offering diverse opportunities across different asset classes. But the question is, which one?
📌 Read more about how to use blockchain for cross border money transfer
What assets can be tokenized?
Real estate: As mentioned in the opening example, asset tokenization of real estate assets opens doors for high capital and increased market participation.
Commodities: Any physical commodity that has value can potentially be tokenized. This includes precious metals like gold and silver, energy resources such as oil and natural gas, agricultural products, and even rare minerals.
Private equity shares: Traditionally, record-keeping of these shares is often done on a centralized database and involves a complex web of intermediaries such as custodians, transfer agents, and broker-dealers. Tokenization can provide investors with lesser entry barriers, and a tamper-proof record of their investments.
Physical goods: Other physical goods can be tokenized in addition to the commodities mentioned earlier. Luxury items such as collectible cars, fine art pieces, and even wine collections can be represented digitally on the blockchain so that investors can easily trade without having to worry about ownership or authenticity.
Intellectual property: Patents, trademarks, and copyrights that can also be converted into digital tokens. This enables creators to sell or license their works directly without relying on third-party intermediaries such as publishers or distributors.
Creative assets: Art, music, and any form of creative work can be tokenized as NFTs – a unique digital representation of the asset. In this case, the token represents the ownership of the asset – and it has been a game-changer for artists who previously struggled to monetize their work.

Challenges to be addressed with asset tokenization
As much of a revolutionary concept as it is, asset tokenization needs to solve a few challenges to enable mass adoption.
Regulatory compliance to protect stakeholders is deemed the most significant challenge. This includes complying with securities laws, anti-money laundering regulations, and know-your-customer (KYC) requirements. Failure to comply with these regulations could result in legal and financial consequences for both issuers and investors. As such, it's crucial for asset tokenization services to work closely with legal entities to ensure that their processes and technologies comply with all relevant laws and regulations.
Another main challenge is standardization. As the market grows, it's important to establish common standards for how these assets are represented, traded, and managed. This will help ensure interoperability between different platforms and make it easier for investors to understand and compare tokenized assets.
As with any digital asset, tokenized assets can be vulnerable to cyber-attacks and theft, which makes security the next concern. Developers must implement robust security measures such as multi-factor authentication, encryption, and secure crypto asset storage solutions. Additionally, regular security audits and assessments must be conducted to identify potential vulnerabilities and address them proactively.
Scalability is the final challenge to be addressed. Tokenizing assets of high value such as real estate or fine art requires significant infrastructure investment to facilitate wide-scale management and trading.
What to consider before tokenizing your assets
To make an informed decision on whether asset tokenization is right for your business assets, here are 6 factors to keep in mind:
Business Model: Consider how tokenization fits into your overall business model. What are the benefits and potential drawbacks? How will it impact your revenue streams?
Market Demand: It's crucial to define the potential buyers of your tokenized assets. Does tokenization offer distinct value propositions compared to the traditional method? Will the projected revenue justify your development efforts?
Security: Security is paramount when dealing with digital assets. Are you using secure smart contracts, blockchain platforms, or development protocols? What security measures to protect your crypto asset will you have in place to protect against hacks or thefts?
Technology Stack: The technology stack used in tokenization can significantly impact the scalability and functionality of the asset. Check out our article on the top 10 most popular blockchain platforms and see which best suits you.
Regulation: It's essential to understand and comply with regulatory requirements in your country before proceeding with asset tokenization. This includes knowing which laws apply to your jurisdiction and ensuring that all necessary licenses have been obtained.
Budget: There are a few different ways to tokenize assets. One is to use existing platforms and tools, such as tZERO, Securitize, or Polymath. Alternatively, businesses can hire an outsourcing software development team, as it allows for greater flexibility and customization, but requires more time and resources.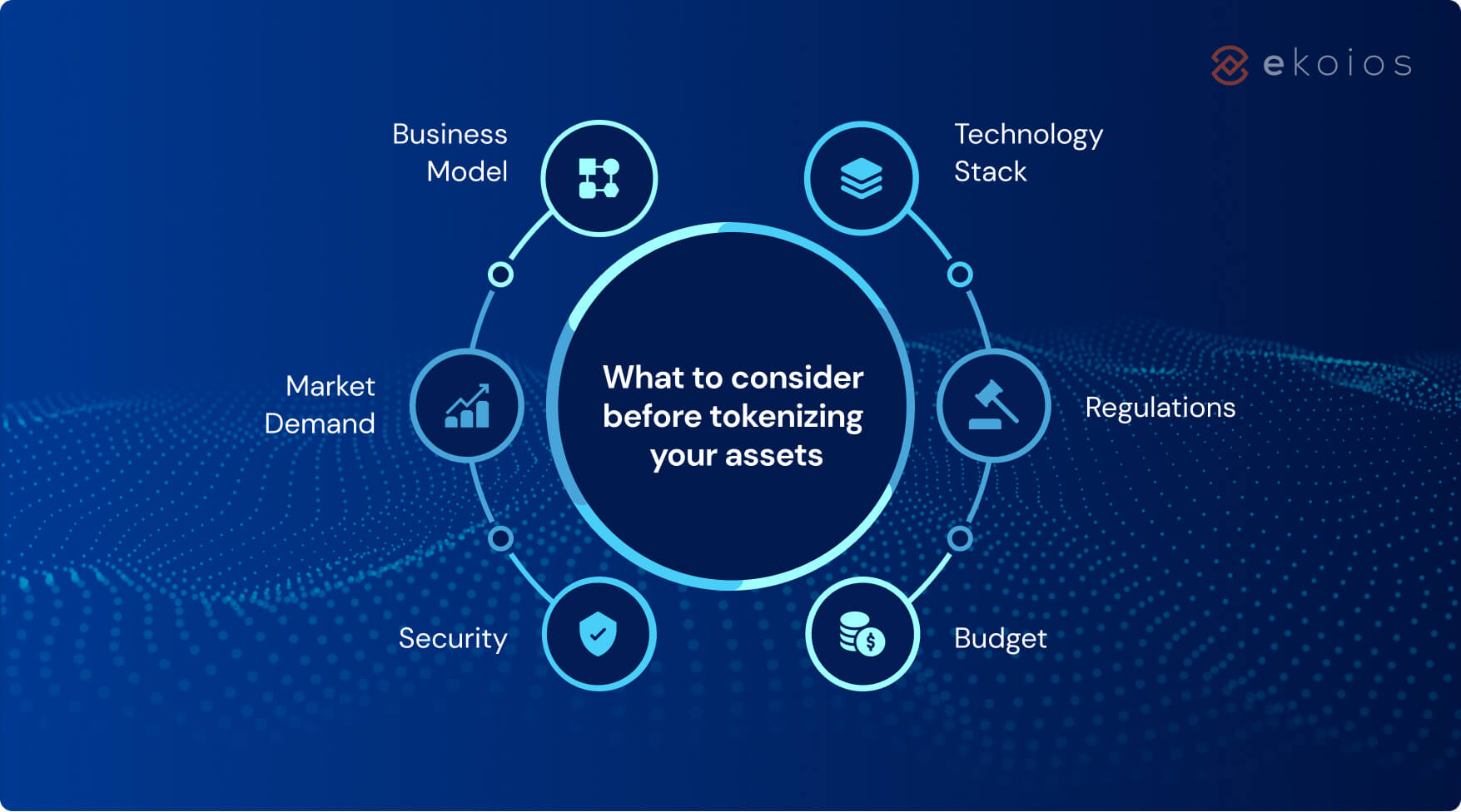 Final thoughts
Given the right technology and regulatory framework, asset tokenization holds the potential to revolutionize the way we invest and manage assets – by leveraging the efficient, secure, and transparent system of blockchain.
As the leading blockchain development firm, Ekoios Technology provides world-class services to tokenize any type of asset with robust security protocols, scalable infrastructure, comprehensive analytics, and a seamless asset trading experience.
Got a tokenization business idea that you're confident with?
Browse our asset tokenization services and see what suits you. Book a personalized demo session today!
Get the best insights to your inbox
I would like to receive communications about Ekoios tailored to my interests and preferences, including latest news about products, services, events and promotions. For more information, please see our
Privacy Policy
.
Get the best insights to your inbox
I would like to receive communications about Ekoios tailored to my interests and preferences, including latest news about products, services, events and promotions. For more information, please see our
Privacy Policy
.
Thinking of outsourcing to Vietnam?
Find out which firm is your best suit with our guide of Vietnam's top 21 outsourcing companies, covering all domains and industries.